Each week, CrossRoadsNews reaches some of the most affluent African-Americans in the United States, representing tremendous buying power. For example, CrossRoadsNews readers spend nearly $2.2 billion in grocery stores each year, nearly $350 million on women's clothing and accessories alone.



Solutions tailored to fit your needs
Whether you want to generate traffic or build your brand awareness, CrossRoadsNews can help you put together a print, online or mobile solution that targets your unique needs and budget. For results-oriented advertising solutions, email us or call (404) 284-1888.
&nbsp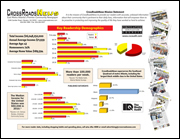 Click here to download our media kit or view our
demographic information.

You can also write to us at:
CrossRoadsNews
2346 Candler Road
Decatur, GA 30032
Toll-free: 1-877-284-5115
Fax: (404) 284-5007

Here's what some of our advertisers have to say about CrossRoadsNews.



Help us build the advertising plan that's right for you. Or, click here to order your print ads online.