Donations sought for school event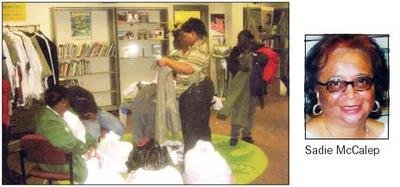 The Sadie T. McCalep Ministry of Hope is collecting donations of clothing, furniture and other items for its semiannual Fun Day marketplace at A.D. Williams Elementary School in Atlanta.
From 8 a.m. to noon on Oct. 18, students and parents will "shop 'til they drop" at the marketplace set up throughout the school located in the Bowen Homes public housing community in Atlanta.
The ministry is accepting clean clothing and shoes for men, women and children as well as any household items in good to perfect condition between 10 a.m. and 4 p.m. through Oct. 14. Donations can be brought to the McCalep Christian Center at 1760 Snapfinger Road in Decatur.
A ministry of Greenforest Community Baptist Church in Decatur, the Ministry of Hope was founded by Sadie McCalep, wife of the late George McCalep, who was senior pastor of Greenforest from 1979 until his death in 2006. McCalep said the Fun Day event is highly anticipated each year.
"We give the children and their parents $300 in fake money so they can shop and if they run out we just give them more," she said. "This teaches the children the power of money and how to budget and negotiate."
McCalep said she first got the idea for this event, which is in its eighth year ,while she was an education coordinator for Atlanta Public Schools. At that time her husband was the pastor of Greenforest and the church agreed to take on the ministry. McCalep is also the co-author of "Blessed, Healed and Delivered," which was written with her husband and published in 2006.
"I feel we have to teach our children about managing money and careers when they are babies. If they don't learn this early on, they are lost," she said. "If they don't see people going out to work every day, then they won't learn it."
Interested volunteers should call 404-288-9727. Greenforest Community Baptist Church is at 3250 Rainbow Drive in Decatur.