1,500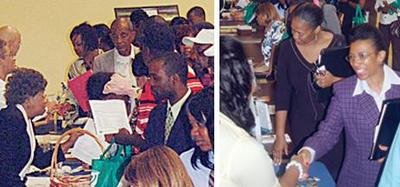 turn out for job fair
More than 1,585 job seekers swarmed the AARP's job fair at Saint Philip AME Church on Oct. 16 looking for full- and part-time jobs in Atlanta's tight economy.
The job fair was held on the same day State Labor Commissioner Michael Thurmond said the state's unemployment hit 6.5 percent in September, a 16-year high, that left 317,490 Georgians without work.
Tonya Parks, who joined the long line at 11:47 a.m., said it was her first job fair.
"I'm looking for a job hard," said Parks, who lost her job on Aug. 1. "Bills got to be paid, so I'm trying to get a job before November. That's my goal."
Parks, 43, used to work for a security company that patrolled Wal-Mart parking lots, said the long line is a sign of the times.
"Everything is shutting down right now," she said. "I signed up for a cafeteria job at DeKalb County School System, but they have a freeze on jobs now. I'm just looking for whatever comes first and praying about it, so I'll pull through."
Holly Brack, AARP Foundation WorkSearch director, said that the event was intended for senior citizens age 50 and older, but that many younger adults showed up. She expected to see about 1,000 people but got hundreds more.
"We had to let people in 20 at a time because the room can only hold 1,500 at a time," she said.
This is the second time this year that a job fair at St. Philip AME's Family Life Center has attracted large crowds. In January, more than 12,000 people showed up for a multi-day job fair for the Memorial Drive Wal-Mart that opened on March 7.
At the AARP's job fair, job hunters met with 50 private and government employers and attend ed free workshops and seminars on resume writing and age discrimination in the workplace.
Valerie Davis of Lithonia sat in on the age discrimination workshop. that was led by Judge Tim Hagan.
"I want to know what kind of impediments people over 50 have when trying to find a new job," said Davis, 56.
Miriam Ware who got to the job fair before the doors opened at 10 a.m., turned in a lot of job applications.
"I believe this will be very successful," she said.