Three DeKalb breast care programs get grants from Komen
4/9/2010, 2:34 p.m.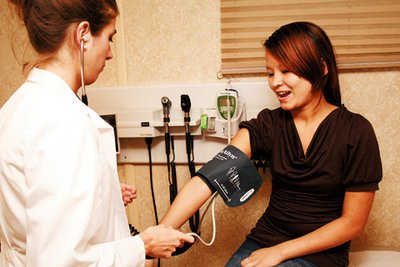 Three DeKalb organizations serving minority women with breast cancer programs will share $315,170 in grants from the Komen Foundation.
Breast health programs operated by DeKalb Medicals Wellness on Wheels Mammography Project in Decatur, Boat People SOS in Chamblee, and the Center for Pan Asian Community Services in Doraville were among 26 metro Atlanta programs receiving $2.2 million in grants from the Susan G. Komen for the Cure Greater Atlanta Affiliate. The group announced the grants on April 5.
The Atlanta affiliate also is providing $600,000 to support national research efforts to find a cure.
Kelly Dolan, Komen Atlantas executive director, said that providing financial support to breast cancer organizations is one of the groups most important functions.
With the decline in the economy, many women do not have health insurance so there is an increased need and urgency for breast health services in our community, she said.
The organizations were chosen based on their anticipated amount of impact on the community in breast health screening, education, navigation and support. Many of the recipients have more than one breast cancer program to meet the needs of its patients and provide services to underserved populations including uninsured and underinsured women, minorities and breast cancer survivors.
DeKalb Medical WOW is a mobile health unit providing prevention education, clinical breast exams and mammography screenings to underserved residents of DeKalb. It gets $150,000. The program partners with refugee agencies and community organizations to provide breast cancer screening to the community despite language, cultural and financial barriers. Follow-up is provided for any abnormalities detected.
Boat People SOS, which offers culturally and linguistically appropriate breast cancer programs tailored to the needs of the Vietnamese American community of Greater Atlanta, gets $44,545. Its goal is to reduce the number of Vietnamese women experiencing adverse outcomes from a breast cancer diagnosis by providing referrals and raising public awareness of breast cancer among Vietnamese communities throughout DeKalb, Gwinnett, Clayton, Fulton, Cobb and Rockdale counties.
The Center for Pan Asian Community Services, which got $120,625, offers support through Asian Breast Care for Asian American Women and through Korean Cancer Alliance and Resources for Empowerment.
Other metro grant recipients include Atlanta Legal Aid Society, Atlanta Lesbian Health Initiative, Center for Black Womens Wellness, Family Health Enterprise, Georgia Cancer Foundation, Good Samaritan Health Center, Georgia Cancer Center for Excellence at Grady Health System, TurningPoint Womens Healthcare and YWCA of Greater Atlanta.
Komen Atlanta is the largest funding organization of breast cancer support in Georgia. It strives to bridge the gap between health care disparities in the community Since 1991, it has raised $26.7 million.
The national Susan G. Komen for the Cure is the largest private funder in the fight against breast cancer. It has invested more than $1.2 billion toward the cause.