Hank gets Presidents endorsement
4/23/2010, 11:21 a.m.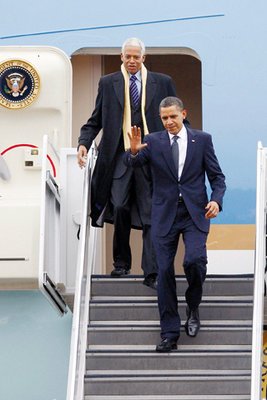 Congressman Hank Johnson landed a big endorsement Thursday when President Barack Obama said he is proud to support his re-election for a third term representing the 4th District.
Congressman Johnson has done an outstanding job, the president said. Together, we are fighting to renew our economy. Together, we passed historic health care reform. I am proud to stand with Hank and support his re-election.
Johnson, who was the first Georgia representative to endorse candidate Obama during the 2008 Democratic Primary, was a big supporter of Obamas health care reform and the presidents other legislative priorities, including the American Recovery and Reinvestment Act and financial regulatory reform.
He said Thursday that he is proud to have the presidents endorsement.
I am determined to continue our work to move America forward, he said.
Johnson is seeking a third term and has two Democratic challengers, former DeKalb CEO Vernon Jones and DeKalb County Commissioner Connie Stokes.
Johnson serves as Southeast Regional Whip in the House of Representatives and sits on the House Armed Services and Judiciary Committees. He also chairs the Judiciary Subcommittee on Courts and Competition Policy.