Marta gains access to money for three years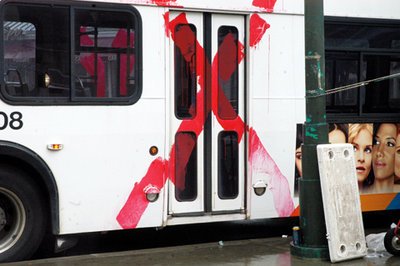 MARTA got a brief respite from its financial woes in the transportation bill passed by state lawmakers Wednesday.
HB 277, which Gov. Sonny Perdue is expected to sign into law, grants the transit authority use of its capital reserve funds for three years.
MARTA spokesman Lyle Harris said Thursday that they wont know how much it will help until they have crunched some numbers.
It will help, but we dont know how much at this time, he said, adding that the board will determine how much of the funds it will use.
MARTA has been lobbying lawmakers for years to change the law that prevents it from using its reserves for operations. It was facing a 30 percent cut in operations in the face of declining revenues.
On Wednesday, MARTA workers marked big red Xs on 200 buses, or a third of its fleet, to dramatize how many buses would go out of service without access to the money.
Prior to the vote, at an April 20 MARTA Matters rally at the Five Points transit station, drivers, commuters and public transit supporters pleaded for financial assistance to keep the countrys ninth largest transportation service running.
MARTA needs a $120 million for operations, and the union said it is trying to prevent 1,000 jobs from being cut.
Bus riders, who use the service to go to work and school, want to protect their only means of transportation.
Benita West, president of ATU Local 732, said they just want one bailout.
We dont want anything fancy, she said. All we want is a basic bus to get us to work and school.
MARTA carries 500,000 passengers daily on its buses and trains. Fifty-four percent of its customers are headed to work, 10 percent each are going to school and to the doctor.
Michael Kimble of Decatur said he would be unable to get to his job at Hartsfield-Jackson Atlanta International Airport without MARTA.
I moved from Clayton County to DeKalb because they cut the C-Tran bus services in Clayton, he said. If they cut MARTA services it will be a big blow to a lot of working people.
MARTAs full board will meet May 10. Harris said it will determine how much of the bus service, that was slated for cuts before the passage of the transportation bill, will be preserved.
South DeKalb was facing losing 10 of its 23 routes.
The board will adopt MARTAs 2011 budget at the end of June.
The transportation bill will divide the state into 12 regions with a roundtable of local elected officials in each, working with an appointee of the governor, to draw up a list of projects for the region.
Voters in each region would vote their approval and a 1 percent sales tax to fund them in a referendum. DeKalb and Fulton counties already support MARTA with sales tax funds.