Runoffs for judge, School board seats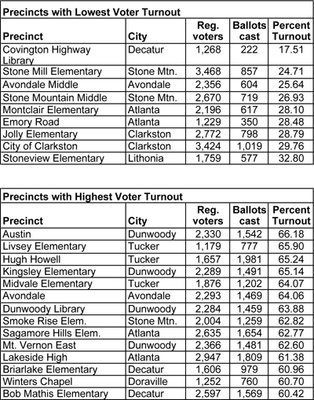 Three incumbent DeKalb School Board members beat back opposition on Election Day to keep their seats for another term, but voters will return to the polls on Nov. 30 to pick winners in the Districts 1 and 7 School Board races and to choose a successor to DeKalb Superior Court Judge Robert Castellani, who is retiring.
In sparse voting on Nov. 2, only 31.2 percent, or 141,481, of the countys 452,902 registered voters went to the polls.
South DeKalb logged the countys lowest turnout with eight precincts where less than 30 percent of the voters showed up. The Covington Highway Library precinct, where only 222 or 17.5 percent of its 1,268 registered voters cast ballots, was at the bottom of that list.
The voters who went to the polls picked Districts 3, 5 and 9 incumbents Sarah Copelin-Wood, Jay Cunningham and Dr. Eugene Gene Walker for new four-year terms on the School Board, but District 7 member Zepora Roberts and District 1 member Tim Redovian are facing challengers in the Nov. 30 runoff.
Former DeKalb Assistant District Attorney Courtney Johnson will face lawyer Michael Rothenberg in the runoff for the Superior Court bench.
Johnson nabbed the most votes, 36.7 percent, on Nov. 2 in the four-member race. Rothenberg got 26.1 percent of the vote. The rest of the votes in the race that fielded three African-American women lawyers and Rothenberg, who is white, were split 18.7 percent for Denise Warner and 18.1 percent for Yvonne Hawks.
Advance voting for the runoff takes place Nov. 22 to 24 at the DeKalb Voter Registration & Elections Office, 4380 Memorial Drive in Decatur.
On Nov. 2, voters also picked former DeKalb Solicitor General Robert James to be the next district attorney and returned U.S. Rep. Hank Johnson with a landslide.
Two incumbents battle for seats
The results of the School Board races show that voters did not pay attention to high-profile endorsements from eduKalb and the Organization of DeKalb Educators. Only one of the candidates endorsed by both groups won on Election Day. Two lost, and two will be in the runoffs.
Marjorie Richardson, who lives in Decatur, said voters did not really want the incumbents back but they didnt want eduKalb more.
The votes were more of a message to eduKalb, she said. Now we will deal with the arrogance of the incompetent School Board members.
In the School Board District 3 race, Copelin-Wood won with 51.2 percent of the vote. Challengers Corey Wilson got 30.2 percent and Robert Holt, who did not campaign or attend any candidate forums, got 18.4 percent.
In the District 5 race, Cunningham won with 64.3 percent. His two challengers, Jacques Hall Jr. and Dr. Kirk Nooks, got 23.5 percent and 12.1 percent of the vote, respectively.
Copelin-Wood and Cunningham were snubbed during the campaign by eduKalb and the Organization of DeKalb Educators, who both endorsed newcomers in their races.
Roberts, who also did not get the nod from the groups, is in a battle for her seat. Redovian, who earned endorsements from eduKalb and ODE, also is facing a runoff for his seat.