Scout to report findings on child sex trafficking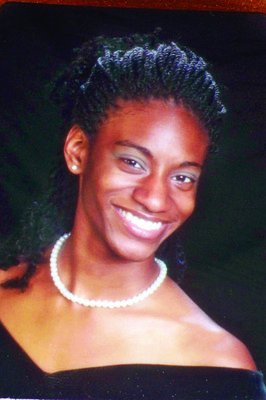 Janecia Williams was at the World Association of Girl Guides and Girl Scout conference in Mableton in January 2009 when she heard shocking stories about the sexual exploitation of girls just like her.
I did not know this was happening in Atlanta, she said.
I felt so unaware of what was going on in my community.
Almost two years later, Janecia, now a senior at Chamblee Charter High School, is tackling the subject for a project to help her gain a Girl Scout Gold Award, win scholarships to college, and help create awareness about human trafficking of girls.
On Jan. 15, she will present her project Priceless: Raising Awareness for Human-Trafficking to her troop, family and invited guests at a ceremony at Greenforest/McCalep Early Learning Academy in Decatur.
With this project I want tomake everyone aware ofwhat is happening in our community, said Janecia, 17.
At the successful completion of her project, she will become the first Gold Award winner from Troop 4105.
Janecia, who lives in Stone Mountain and has been a Scout since she was 6 years old, said it feels good to be the first.
I feel like Im setting a standard because not many African-American girls get this far in Girl Scouts, and I want every Girl Scout to experience this.
A Gold Award the highest award a Scout can earn requires demonstrated skills in leadership, communication, time management, presentation, delegation, interpersonal relationships, responsibility and commitment to qualify.
With a Gold Award, Janecia, who wants to study biology at Vanderbilt University, could qualify for up to $50,000 in college scholarships.
In her three-minute presentation, Janecia will discuss human trafficking of young girls and pay tribute to survivors of sexual exploitation and prostitution in Atlanta.
Atlanta is listed as the No. 1 hub for child sexual exploitation and the illegal trade in human beings for the purposes of commercial sexual exploitation on www.humantraffickingatlanta.wikidot.com.
The Web site says men from all around the world are traveling to Atlanta via Hartsfield-Jackson International Airport for liaisons with child sex slaves.
Janecia said she found many survivors while researching her project.
My project is all about survival and women empowerment, she said.
DeKalb Sheriff Thomas Brown, DeKalb Superior Court Judge Cynthia J. Becker, and Mary Bowley from Wellspring Living Women Center in Atlanta will be guest speakers during the event. It also will include musical and spoken word performances.
The 6:30-to-8 p.m. event will be in the Genesis Room. Tickets are $5 each, and children 5 and under are admitted free.
The Greenforest/McCalep Early Learning Academy is at 3250 Rainbow Drive in Decatur.
For more information, call Janecia Williams at 404-291-4454.