Business seminar taking rsvps
5/5/2011, 9:42 p.m.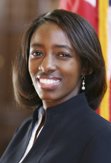 Small-business owners and aspiring entrepreneurs can attend a free seminar on starting and growing a business on May 19 in downtown Lithonia.
State Rep. Darshun Kendrick, who is co-sponsoring the National Small Business Week Forum in partnership with DeKalb County Parks and Recreation and the DeKalb and Rockdale Chambers of Commerce, said it will be an excellent opportunity for small-business owners and aspiring entrepreneurs to learn about job creation from local business leaders.
Were focused on getting Georgias economy back on track, and that work begins in our own communities, said Kendrick, whose 94th House District includes parts of DeKalb and Rockdale counties.
The Empowering Businesses Through Our Community forum will be held at the Lucious Sanders Recreation Center from 7:30 a.m. to noon.
Lithonia Mayor Tonya Peterson and Conyers Mayor Randal S. Mills will moderate a Dream Team panel offering participants the opportunity to ask questions of bankers, business attorneys, and certified public accountants. Information on resources for small-business owners also will be available.
A complimentary breakfast will be served from 7:30 to 9 a.m.
The Lucious Sanders Recreation Center is at 2484 Bruce St.
For more information or to register, visit www.nsbwforum.eventbrite.com, e-mail dkendrick@kendrickforgeorgia.com, or call 404-656-0109.