Gates Scholarships to pay for college for 20 DeKalb students
5/19/2011, 11:36 p.m.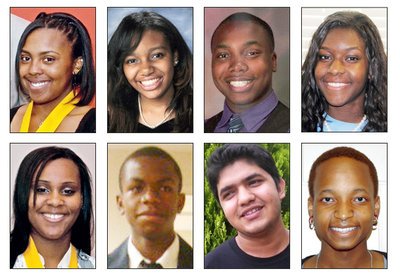 For years, Ryan Starks had dreamed of going to the New School in Manhattan, N.Y., to study business and fashion design.
The price tag $55,000 a year.
There was no way he could afford it, but on a wing and a prayer, he applied.
I knew I wasnt going to be able to go if I didnt get scholarships, so I started praying, said Ryan, who is graduating from Southwest DeKalb High School on Sunday.
Fadhal Moore, a classmate, was in a similar boat. He wants to study government at Harvard University, but he too knew that without a great financial aid package, the $56,000-a-year price tag was going to be steep for his family.
For Ryan, Fadhal and Mickhale Green, also from SWD, and 17 other 2011 graduates from 14 DeKalb County schools, the cost of attending college will no longer be a worry after they all landed Gates Millennium Scholarships that will pay their way through college, including doctorates if that is their desire.
The 20 DeKalb Gates Scholars include Avondales valedictorian, Jada Henderson, and Cedar Grove salutatorian Chard Acie.
Together, they make up the largest class of DeKalb Gates Millennium Scholars since the nonprofit began awarding scholarships in the 2001 school year. The Bill and Melinda Gates Foundation launched the program in 1999.
Each year, the program awards 1,000 good-through-graduation college scholarships to students from low-income families who might not otherwise be able make it to college. The scholarship pays all their expenses to attend college.
Cross Keys Mpaza Kapembwa said the Gates scholarship is making college very affordable.
Having the Gates will enable me to study abroad, he said. It will pay for my graduate school. and the networking is priceless.
Leticha Heflin of Arabia Mountain High is glad that she won a Gates Scholarship to pay her way through Hampton University to study politics and English.
Without it, she might not have been able to go because since Christmas her father, Donald, has been out work.
Leticha and her family were on their way to visit family in Orlando, Fla., on Christmas Day when their car flipped five times on black ice in Valdosta, trapping her inside the car. Her father punched through the windshield with his right fist to free her from the car and broke every finger on his hand.
He has been out of work ever since, she said.
Avondale High valedictorian Jada Henderson also is headed to Hampton University on a Gates Millennium Scholarship. She will major in biochemistry.
Towers High senior Shannon Williams, who is the lone 2011 Gates Millennium Scholar from her school, is also an athlete. She captured a silver medal in the shot and a bronze in the discus to lead Towers to fourth place in the Region 5-AAA girls track championship at Woodward Academy on May 2.
The Bill and Melinda Gates Foundation initially funded the scholarship program with $1.6 billion.
Scholarships can be used to pursue degrees in any undergraduate major at the accredited college or university of the recipients choice. To date, more than 15,000 students have received scholarships. They attend more than 1,500 schools, including Ivy League colleges, flagship state universities, and historically black colleges and universities.