Greenforest-McCalep hoops star to play for Southern Polytechnic
5/19/2011, 11:25 p.m.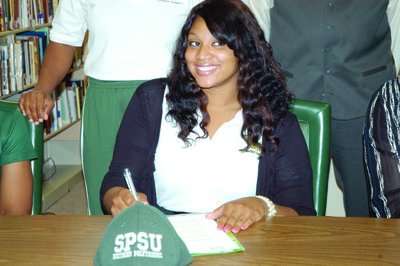 Next school year, Greenforest-McCalep Christian Academys Taylor Singleton will be driving to the basket for the Running Hornets of Southern Polytechnic State University.
The 6-foot center was offered a full athletic scholarship and signed her name on the dotted line on May 5 to play for the school in Marietta in the fall.
Taylor, 17, said she is looking forward to playing on a team with great athletes and coaches.
Im extremely excited, the Decatur native said. Its a really big milestone for my basketball career.
Taylor, who played on the Greenforest Eagles varsity team for three years, averaged 12 points per game and 10 rebounds this past season. Allison Prather, the schools head coach, said Taylor will be a great asset to Southern Polytechnic womens basketball team.
She is a very good player who understands the game very well, Prather said. She has a very high basketball IQ.
Southern Polytechnic head coach Laquanda Dawkins said she was very impressed with Taylors basketball skills after watching her play during an exposure camp at the school in April.
She has the ability to face up and shoot the ball very well, Dawkins said. She is a strong rebounder and has great footwork. She has great potential.
The coaches also were impressed with her character.
Taylor said the university is not only getting a good player, but a leader as well. I have very good leadership qualities and have a desire to win. I just have that fire and energy that will help the team succeed.
Taylor is not only a talent on the basketball court. She is an honor student and will graduate on May 20 with a 3.71 GPA. She and 17 others will be the academys final high school graduates. Greenforest Regents voted May 10 to terminate 9-12 grades at the school.
Taylor plans to become a pharmacist and major in chemistry. She said she cant wait to set foot on campus in the fall. I feel like [Southern Polytechnic] is a great school with a great atmosphere. Its not too big, not too small, and its a new campus. Everything is nice and new.