Steen Miles to announce run for U.S. Senate seat
8/23/2013, 6:01 a.m.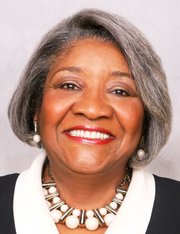 Former state Sen. Steen "Newslady" Miles will announce her run for the U.S. Senate on Aug. 28 in the village of Stone Mountain.
Miles confirmed Thursday that she will enter the 2014 U.S. Senate race for the seat being vacated by Republican Saxby Chambliss but declined any further comment.
"I will answer all questions after my announcement," she said.
An "I Have a Dream" flier Miles circulated this week said there would be a special announcement by the former state legislator.
Miles said that event is a legitimate event commemorating the 50th anniversary of Dr. Martin Luther King Jr.'s "I Have a Dream" speech.
"There will be performances and music," she said. "At the end of it, I will announce."
Miles, who writes a weekly column for The Champion Newspaper, said she could not speak more of her Senate run until after she had discussed it with her employer.
She is the second woman Democrat to announce for the seat. Michelle Nunn announced in July that she is seeking the seat once held by her father, Sam Nunn.