Miles announces Senate run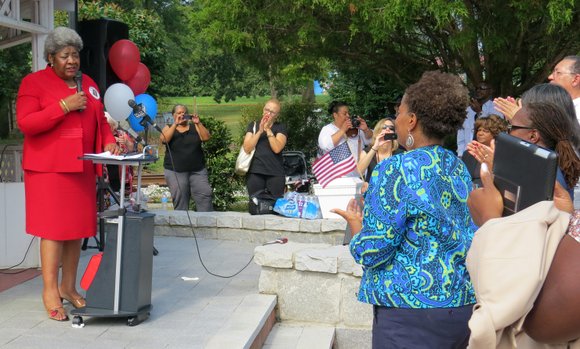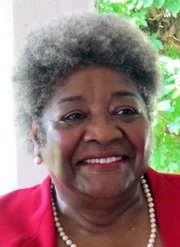 STONE MOUNTAIN — Former state Sen. Steen "Newslady" Miles has thrown her hat in the ring for the U.S. Senate seat being vacated by Republican Saxby Chambliss.
Miles made her run official in front of supporters in Stone Mountain Village during a 50th anniversary celebration for Dr. Martin Luther King Jr.'s "I Have a Dream" speech on Aug. 28.
She said she wanted to join together to move Georgia forward.
"That is our dream," she said. "The dream that Dr. King saw on the red hills of Georgia, in which the sons of former slaves and the sons of former slave owners would sit down at the table of brotherhood. Well, Dr. King, it's a daughter of former slaves who will take that seat – with your help – at the Senate table."
Dr. Eugene Walker, a former DeKalb School Board member who spoke at the event, said he is supporting Miles because he knows her and her values.
"Dr. King said we should realize the power of the vote," he said, "It's what we use to select people who believe as we do – to fight our cause."

Miles is only the second Democratic woman, and the only African-American so far, to announce for the 2014 race. Michelle Nunn announced in June. The other candidates in the May 20 Democratic primary include Branko Radulovacki, Todd Robinson and John Coyne.

Nunn, whose father, Sam Nunn, held that seat from 1972-1977, is expected to garner national attention and funding.
Miles said she isn't worried.
"We may not have the money and we may not have the father's name, but what we do have is the experience, the time, the focus and the heart to make a difference for all Georgians," she said. "That's what we're going to Washington to do."
Miles said she is going to Washington with a moral vision to try to help bridge the political, racial and economic divide.
"We will fight to make certain that women receive equal pay for equal work," she said. "We will fight to make certain that a woman's reproductive rights remain the sacred domain of women, their doctors and their God."
She also promised to address voting rights, climate change, gun control, immigration reform and LGBT rights.