Heritage Festival kicks off at Wesley Chapel Library
12/6/2013, 1:24 p.m.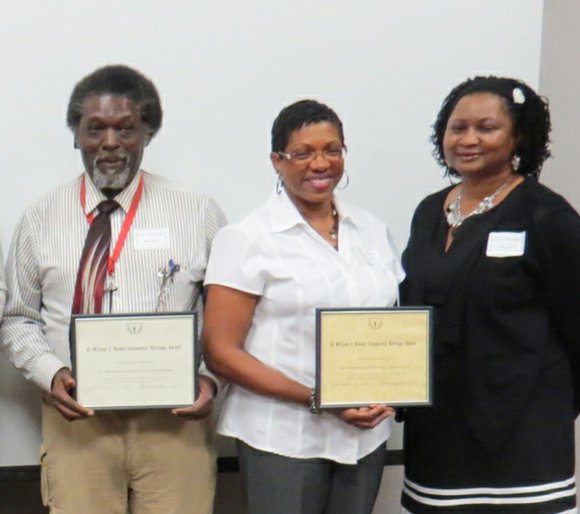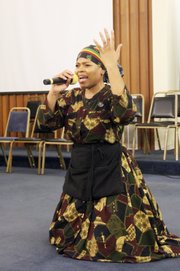 The Atlanta Symphony Orchestra, a New York actress and a Soul Food Museum presentation are some of the special events under way through Dec. 23 at DeKalb Library branches for its first Heritage Festival.
It kicked off Dec. 2 at the Wesley Chapel-William C. Brown Library with the presentation of awards recognizing the outstanding service of library volunteers and staff.
The Heritage Festival replaces the annual Kwanzaa Festival that for years taught library patrons how to celebrate the African-American cultural holiday.
Retired library branch manager Doris Wells, who helped coordinate the Heritage Festival, said 31 programs are taking place at library branches throughout the system.
Monday's kickoff included music by PR Experience Jazz Ensemble; screening of a video on the life and legacy of the late William C. Brown, a DeKalb commissioner and chairman of the library trustee board; and the presentation of the inaugural William C. Brown Community Heritage Awards to five individuals and two organizations.
Deborah Bolden, a longtime volunteer, received the Friend of the Year Award. Volunteer Charles Atkinson was recognized for his work with the library's Adult Book Club. Library employees Myguil Chappel, Tamika Strong and C. Joyce Farrar-Rosemon; the 100 Black Men of DeKalb; and the Decatur Graduate Chapter Kappa Alpha Alpha of Omega Psi Phi Fraternity Inc. also were recognized for their work with the library.
Highlights of the fest include a Symphony in Your Neighborhood concert on Dec. 9 with the ASO and a Dec. 10 presentation by Barbara Cross, who was inside the Sixteenth Street Baptist Church on Sept. 15, 1963, when it was bombed by the Ku Klux Klan.
The casual concert by the ASO takes place at 7 p.m. at the Wesley Chapel Library. The musicians will interact with the audience after their performance.
Cross' four Sunday school friends were killed in the Birmingham church blast. She will speak at 6:30 p.m. at Wesley Chapel.
On Dec. 14, there will be a Community Awareness Day with a Soul Food Museum exhibit, vendors, an information fair and breakout sessions from 10 a.m. to 4 p.m.

New York actress Christine Dixon also will perform a portion of her award-winning one-woman show about the life and times of Harriet Tubman.
The America's Soul Food Museum includes 400 years of artifacts representing African-American contributions to the culinary arts. Its founder, Dr. Kenneth Willhoite, will discuss brain foods and 11 healthy foods in the new soul food diet.
For the complete schedule of Heritage Festival events, visit www.dekalblibrary.org.
The Wesley Chapel-William C. Brown Library is at 2681 Wesley Chapel Road. For more information, call 404-286-6980.