Six already in line to run for DeKalb sheriff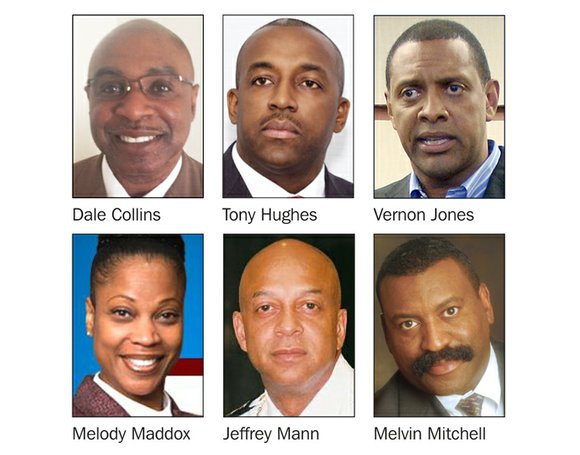 Former DeKalb CEO Vernon Jones and five others are already in line to succeed DeKalb County Sheriff Thomas Brown.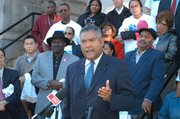 Four of the five men and a woman – DeKalb Sheriff's Office Deputy Chief Jeffrey Mann, retired DeKalb Sheriff's Deputy Dale Bernard Collins, DeKalb Police Sgt. Romaldo Tony Hughes, Atlanta Police Sgt. Melvin Mitchell, and former Georgia Piedmont Technical College Assistant Police Chief Melody Maddox – have filed paperwork to seek the office that Brown will vacate in March when he qualifies for the 4th Congressional District race.
After months of rumors about a possible run, Jones confirmed Dec. 24 that he will seek the office of Sheriff.
In an email answering queries, Jones said he an announcement will be made after the beginning of the year.
"I'm certainly encouraged by the request from citizens as well as the law enforcement community that that I considers a run for Sheriff of DeKalb County," he said. "I know DeKalb and DeKalb knows me. Having been the county's chief executive officer and top administrator, I have the experience in managing DeKalb's largest police department. So becoming DeKalb's Sheriff is a natural fit."
Brown, who has been sheriff for 12 years and ran unopposed twice, announced his candidacy in October for the Fourth District seat held by Hank Johnson.
When he qualifies for the race, he will have to resign. Because there are more than two years left on his four-year term, a special election will be held for a sheriff to finish his term.
The special election is expected to be held May 20 alongside the Democratic and Republican primaries.
Jones, who was DeKalb's CEO from 2001 to 2008, is a former state representative.
Since leaving county government, he has made unsuccessful runs for the US Senate and House of Representative.
He said that Tuesday that crime has become a major issue in the county.
"The rise of home invasions, the safety of seniors and the welfare of children are issues that must be addressed," he said. " Citizens know if there is a crack house in there neighborhood, calling 911 may put them on hold. But calling Sheriff Vernon Jones will get it "shut down."
In March when Brown qualifies for the congressional race, Mann will become interim sheriff until the special election is held.
He is a former assistant County Attorney. He joined the Sheriff's Office in 2001 when Brown hired him as his director of labor relations and legal affairs. In 2004, Brown appointed him his chief deputy, which is the second in command.
Mann said Monday that he will run for sheriff because he has been in the office for 12 years, helped improve morale and credibility, and helped it earn Triple Crown accreditation from the Commission on Accreditation for Law Enforcement Agencies, the American Correctional Association and the National Commission on Correctional Healthcare.
He said less than 40 of the nation's 3,000 sheriff offices nationwide have all three accreditations.
"I like the work we have done here," Mann said. "I like the fiscal restraint we have exercised and the professionalism that we have returned to the office. We have done a good job. I have done a good job and I am prepared to continue doing a good job here."