Lakeside Alliance raises funds for cityhood feasibility study
Ken Watts | 7/5/2013, 6 a.m.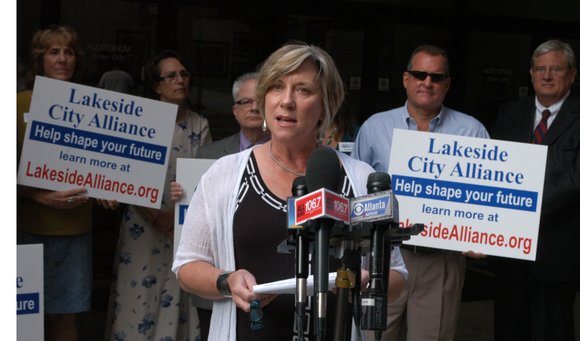 The group that wants to create a new city of Lakeside in North DeKalb says it is ready to take the next step.
Leaders of the Lakeside City Alliance said June 25 that they have raised $30,000 for the feasibility study required by state law.
Chairwoman Mary Kay Woodworth said the alliance has hired the Carl Vinson Institute at the University of Georgia to conduct the study.
"We are grateful that so many citizens in our community contributed to fund this study which will determine whether we have the financial capacity within our borders to incorporate as a city," Woodworth said.
"We have enormous momentum in support of our efforts and we received a strong, positive response from residents throughout this area of north DeKalb County."
The alliance began gauging public interest on Feb. 7 with a series of informational meetings explaining the pros and cons of cityhood. Attendees were encouraged to contribute to a fund set up to pay for the feasibility study.
Woodworth said the funds didn't come from big donors.
"We got a lot of small donations from a lot of people," she said.
The proposed new city would have a population of about 63,000 and covers about 20 square miles, bounded by North Druid Hills Road to the south, I-85 to the west, and the Embry Hills community to the northeast.
The map does not include a huge portion of western Tucker as did earlier versions. At a contentious alliance meeting in March, many Tucker residents said they wanted to keep their neighborhood intact, perhaps for their own incorporation effort.
Alliance organizers say the boundaries could change again over the next few months based on input from the community.
Meantime, the Lakeside efforts seem to be energizing DeKalb's other cityhood efforts, including a proposed city of Stonecrest.
Jason Lary, president of the Stonecrest City Alliance that is seeking a city in South DeKalb's unincorporated Lithonia area, says they are moving ahead.
"We've raised $15,000, about half of what we need for our own feasibility study," he said at the Lakeside news conference. "We're getting a lot of interest from the neighborhoods and we'll build support at our informational meetings this summer."
Two other neighborhoods – Briarcliff and North Druid Hills – are deciding whether to pursue cityhood under HB 665, a placeholder bill filed by state Rep. Mary Margaret Oliver.
County leaders continue to slam the idea of cityhood as divisive and costly to unincorporated DeKalb.
Presiding Commissioner Lee May and District 3 Commissioner Larry Johnson say the movement is draining millions of dollars in tax revenue, making it harder for the county to fund basic services, but the movement continues.
Lakeside Alliance leaders say the driving force behind their progress so far has been the desire of neighborhoods to have local control over zoning, public safety and parks.
The movement also taps into anxiety over the DeKalb School System's probationary status and concern about ongoing corruption investigations in the county, but Woodworth said the group had already raised nearly all the necessary funds before the grand jury indictment of CEO Burrell Ellis on June 18.
The Carl Vinson Institute could finish Lakeside's feasibility study in four to five months. The General Assembly will use the Vinson Institute's information next year when it considers legislation on whether to allow residents to vote on the matter.
If all goes well, the Lakeside Alliance says it will push to get its cityhood initiative on the ballot as early as next summer.