Walmart postpones opening of hiring center for new Stonecrest store
Ken Watts | 7/8/2013, 5:26 p.m.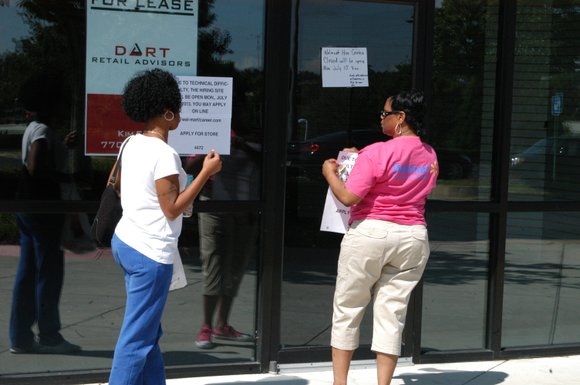 LITHONIA — Eager job seekers were turned away in frustration July 8 after Walmart delayed the opening of the hiring center for its new Supercenter at Stonecrest nearing completion at I-20 and Turner Hill Road in Lithonia.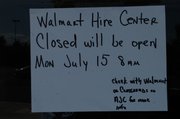 Signs posted on the door and window of the job center said the office would not open Monday as scheduled because of "technical difficulties."
The center is in a vacant storefront next door to the Rainbow store in the Stonecrest MarketPlace shopping center that overlooks the Mall at Stonecrest.
A personnel manager who posted the notices said the "new opening date for the hiring center is July 15."
The manager gave her name as "Linda" but declined to give her last name and referred all further questions to the Walmart marketing office. There was no immediate response to our inquiries at the office but some job seekers said they were told there was a leasing issue between Walmart and the shopping center concerning the office space.
Though irritated with the delay, several applicants said they'll be back.
"Well, we can't do anything about it. I'll have to catch up with them next time," said a disappointed Doug Gallop, who drove from the Bankhead Highway area and arrived at 7 a.m. to apply for any available position. "My skills are forklift, shipping and receiving, plumbing, a lot of things."
Angela Quashie of Lithonia has a background in retail sales management but has been out of work since 2011.
"It's been hard," Quashie said, "I've filled out a lot of applications online with no response. But you just keep going."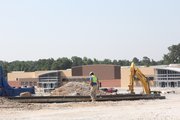 John Moreno, manager of the Stonecrest Walmart, told CrossRoadsNews on June 25 that he is looking to hire 300 full- and part-time workers. The staff will include hourly associates and supervisors and managers at the 152,000-square-foot facility.
"Most of the hiring will be from the Lithonia area and DeKalb County," Moreno said.
He and six to 10 managers will be present daily at the hiring center to answer questions and describe the positions.
Curtis Baynes of Decatur said he's skilled floor tile installer and has experience working in grocery meat departments.
"But I've been looking for a while and I'm trying to find anything right now,' Baynes said as he made plans to return to the hiring center on July 15.
Angela Quashie said she's applying at several companies but is most optimistic about her chances at Walmart.
"Bills keep coming in faster and faster," she said with a wry smile. "But God is good. I haven't starved yet."