Applicants turn out big for Stonecrest Walmart jobs
Ken Watts | 7/19/2013, 6 a.m.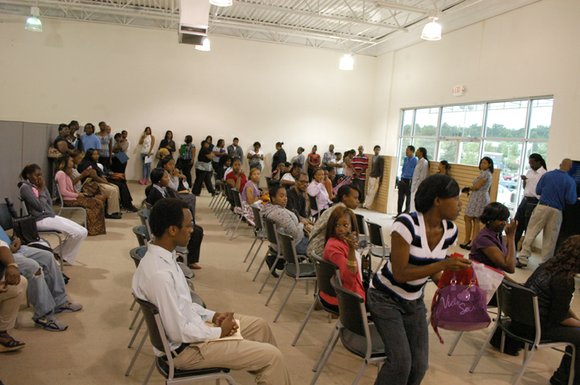 LITHONIA — On its first day, 250 job seekers showed up at the Stonecrest Walmart hiring center on July 15 in search of one of the 300 positions coming with the new Super Walmart opening in October.
The 152,000-square-foot store is off I-20 at Turner Hill Road, next door to Sam's Club.
Eager job seekers converged on the center located temporarily at 7342 Stonecrest Concourse, next to H.H. Gregg.
Store manager John Moreno said it started with a trickle.
"At first it was just one or two people and then right before we opened there was a big rush of applicants," he said. "We're very happy with the turnout."
The new store is seeking hourly cashiers and associates and supervisors and managers for all store departments.
The hiring center was relocated from Stonecrest MarketPlace for a larger space to accommodate the anticipated crowds.
It is open weekdays, 8 a.m. to 4:30 p.m.
Applications are also being taken at www.walmart.com.
While waiting in line for her interview, Deborah Martin of Stone Mountain said she's been job hunting "for a while."
"Let's just say it'll be good to pay some bills and take care of my household again," she said.
Jaffah Sterling said he's looking for a position that builds on his five years' experience as a fast-food restaurant manager.
"I've got the management skills down pat," he said. "Now I'm just trying to move up and get a little bit more money."
Rashad Turner of Decatur, who just turned 18, says if he gets hired, it will be his first official job.
"I have photography skills and hope to land a job in the photo department," he said.
Moreno said he has 10 managers on duty at the hiring office to ensure that everything goes smoothly.
"The first interviews are just to get to know their background and get an early idea of the possible positions they match up with," he said. "From this first session we call a certain number of applicants back for the next round of interviews by mid-August."
Walmart spokeswoman Cecily Longfield said some applicants will hear back from the company as early as next week and many of the associates will start work by the end of August.
The building is nearing completion and Moreno said Walmart hopes to take possession of the property in the next three to four weeks.
"They [associates] will have a lot of work to do getting the store facility organized and ready for its opening this fall," Moreno said.