Survivor of family massacre focused on faith, healing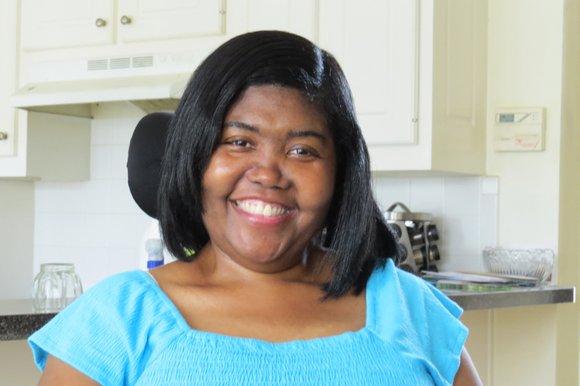 DECATUR — When Joan Brown Llewellyn smiles, it spreads to her eyes and illuminates the room she is in.
Even the most determined grump is unable to resist.
What does Llewellyn have to smile about?
Life!
Twenty-eight months after her estranged husband executed her mother, father, brother and her only child and left her for dead on her parents' kitchen floor in Three Hills, Jamaica, Llewellyn is focused on her recovery.
Her thousand-watt smile comes easily and her optimism is infectious.
"I thank God for everything that's happened in my life because it happened for a reason," she said on July 13 in Decatur, where she now lives with her eldest sister. "I thank God if he chooses to use me on my back. I thank him if he chooses to use me in my chair. I thank him if he uses me in my singing. I don't know if anybody understands how much gratitude I have."
One of the three point-blank shots her husband of 13 years fired at her head on April 7, 2011, went into her neck, exploded and exited from her back.
It paralyzed her from the neck down.
Today, CAT scans show more than 20 bullet fragments still inside her body. There also are tiny bone fragments too numerous to count.
But with determination and therapy at the Shepherd Center, Llewellyn can now move her shoulders and arms, feed herself, and wash her face.
For a shower, her sister Evelyn McFarlane has to drive her an hour away, three times a week, to the Shepherd Center in Buckhead.
On July 11, friends and supporters launched www.WelcomeHomeJoan.com, an online flexible funding campaign to raise $18,000 to create a bedroom with doors and to enlarge and retrofit a powder room in her sister's home into a wheelchair-accessible shower.
Llewellyn, 42, can hardly wait.
"She loves to feel water over her body," her sister says. "When she gets in the shower, we have a hard time getting her out."
Harris Haley, Llewellyn's fitness buddy at the Shepherd Center, launched the campaign with the help of his friend Amir Levin and a host of supporters including Stone Mountain-based Friends of Disabled Adults and Children Too Inc., Decatur-based Triumph Over Tragedy, and videographer Dave Shapiro.
When he started volunteering at the center last November and was assigned to Llewellyn, Haley said he was immediately captivated by her smile and touched by her determined spirit.
"She was my first," Haley said. "I hit a home run. If you have met Joan, you know she has the most amazing smile that can literally lift your world up."
As her fitness buddy, Haley supports and helps Llewellyn with whatever she needs during her hour of physical therapy.
"If she needs weights, I get them for her," he said. "If she needs a pep talk, I give her one. Whatever she needs, I am there for her."
When he was assigned to her, Haley said he was told not to ask her about the terrible circumstances that made her a paraplegic, but 20 minutes after they met, he said she had shared her story.