May tells employees he favors tougher cityhood process
Ken Watts | 7/25/2013, 11:32 p.m.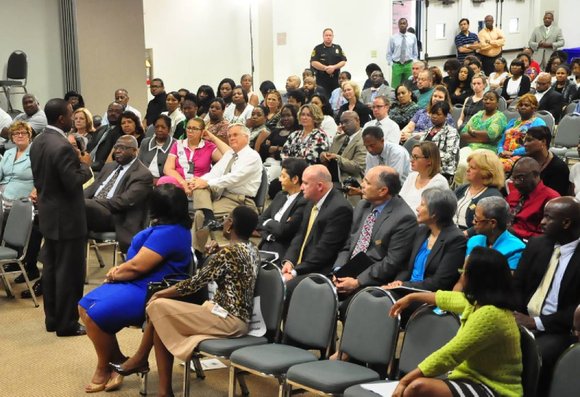 DECATUR — Speaking to county employees for the first time as Interim CEO, Lee May said on July 25 that he favors state legislation to reform the cityhood process and ease the economic impact on the county. But May told about 200 workers in Maloof Auditorium in Decatur that he is not against incorporation.
The informal hour-long talk featured May with wireless microphone in hand mixing with the audience, giving employees their first encounter with May in his new role in what resembled a town hall meeting.
"If an area organically comes together and decides that they want to become a city, I think they have a right to do that," May said responding to a question from a worker. "But state law is really bad in terms of how areas incorporate. It allows new cities to cherry pick all of the most valuable assets of an area and if they've got the political will they can get [the cityhood initiative] on the ballot and they're a city."
May said he'll talk with members of the DeKalb House and Senate delegation about developing legislation that would make incorporation a more equitable process. But he said the county has to take a more aggressive role in future public conversations about cityhood.
"We suffer every time an area wants to incorporate and annex. Again, I'm all for them having that ability, but we have to really jump into the conversation proactively and put unbiased data on the table that the public can use to make informed decisions on whether they want incorporation," May said.
The county could have handled the Dunwoody and Brookhaven cityhood movements better by joining the discusson early, said May. The two north DeKalb suburbs went on to incorporate in 2008 and 2012, taking millions of dollars in property tax and commercial tax revenue with them. There are placeholder bills in the legislature for several more new cities including the proposed cities of Lakeside in the Northlake area and Stonecrest in South DeKalb.
State Rep. Pam Stephenson, who represents House District 90, filed placeholder HB687 in the last General Asembly session to create a City of DeKalb and HB 692 that would prohibit annexation within three miles of a municipality, both measures aimed at slowing down the rush to cityhood.
On other priorities, May said he wants to include a three to five year forecast in the proposed 2014 budget that would project future spending on personnel, technology and capital improvements.
May served seven years on the Board of Commissioners and was presiding officer when he was appointed on July 16 by Governor Nathan Deal to replace CEO Burrell Ellis. The Governor suspended Ellis after his indicment on corruption charges.

May will serve until Ellis' case is resolved or his term ends, whichever comes first. The Interim CEO had a number of high profile fights with his predecessor over budget issues but May promised to put an end to conflict between the board and the CEO's office.
"I'm tired of the conflict, tired of us fighting. I'm tired of us not being able to get along. I'm tired of us not being able to move legislation as quickly as we can because we've got all this mess in between us, this big divide. So that's one of my highest priorities." May said.
"I think it went well," May said afterward. "I just really wanted to speak to the employees from my heart. They've been through a disruptive transition and there's been a lot of turmoil over the past year, So I wanted them to see me face to face, hear my vision and know how important they are to the success of this county."
May will hold another get acquainted session, July 30 at 9 a.m. in Maloof Auditorium for employees who weren't able to make the first one.