Author to discuss book at Decatur Library
7/26/2013, 6 a.m.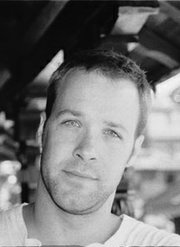 DECATUR — Christopher Bundy, a founding editor of the journal New South, will discuss his new novel, "Baby, You're a Rich Man," on Aug. 5 at the Decatur Library.
The talk about the part comic book drama, part classic noir takes place from 7:15 to 9 p.m. at the library in downtown Decatur. Bundy will be joined onstage by fellow novelist Jamie Iredell.
"Baby, You're a Rich Man" tells the story of an expat variety star living in Japan. After becoming the target of an escaped prisoner, Kent Richman, who just happens to bear a resemblance to John Lennon, goes into hiding at a Buddhist retreat where "he embarks on a journey of mishap, paranoia, desperation, and self-discovery that leads to an illuminating showdown as he attempts to right the wrongs of his past." It is illustrated by Max Currie.
Bundy's fiction and essays have appeared in Glimmer Train, Puerto del Sol, Diagram, Ellery Queen's Mystery Magazine, and The Collagist.
The Spartanburg, S.C., native teaches writing and literature at the Savannah College of Art & Design-Atlanta.
The author talk is part of the Georgia Center for the Book's Festival of Writers series.
The library is at 215 Sycamore St. For more information, call 404-370-3070.