Stark racial divide on Zimmerman verdict
Ken Watts | 7/26/2013, 6:05 a.m.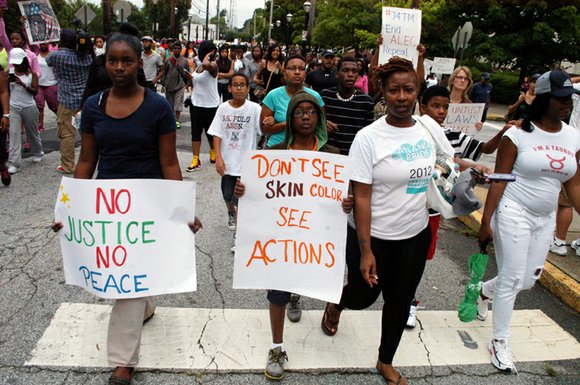 Two national opinion polls released July 22 revealed a dramatic racial divide in public opinion surrounding the Trayvon Martin case, with notable disparities on issues ranging from reaction to the July 13 not guilty verdict in the George Zimmerman trial to the need for a national discussion on race.
A Pew Research Center poll finds that 86 percent of African-Americans expressed dissatisfaction with the verdict, compared with just 30 percent of whites.
A Washington Post/ABC News poll says that just 9 percent of blacks approved of acquitting Zimmerman of criminal charges in the teen's death, compared with 51 percent of whites who approved.
The Post/ABC News data also reported that 87 percent of blacks say the shooting was unjustified. Just 33 percent of whites agreed.
Hispanic reaction registered in between, with 16 percent saying the shooting was justified, 34 percent saying it was unjustified, and 50 percent undecided over whether it was or wasn't justified.
The surveys followed a second weekend of rallies and marches in metro Atlanta and across the country protesting the acquittal in the Feb. 26, 2012, shooting death of the 17-year-old in Sanford, Fla.
The local protests on July 20 ranged from a small group of a few dozen on Candler Road in Decatur to a massive rally drawing thousands in downtown Atlanta.
About 50 protesters in the first DeKalb Civil Rights Walk marched from the DeKalb Supervalu Foods, formerly Piggly Wiggly, to the intersection of Candler and Glenwood Road and back to the store in memory of civil rights legend Hosea Williams and Trayvon Martin.
Organizer Nathan Knight, president of the DeKalb SCLC, said the event was scheduled long before the Zimmerman verdict and included calls for vigilance of the judicial system and greater activism against racial profiling. His group picketed the store in May over poor conditions there.
"We think we had good participation for this first-time event at the same place where we spent so much time picketing back in the spring," Knight said.
Store owner and operator Ken Hong said he was extremely pleased to host the march.
"We look forward to continuing to support these great efforts that bring our community closer together," he said.
In downtown Atlanta, an estimated 3,000 people braved pouring rain at a rally in front of the Richard B. Russell Federal Building and the Martin Luther King Jr. federal post office on Spring Street to express frustration over Zimmerman's not guilty verdict.
Brenda Jackson of Lithonia attended with her 11-year-old son Brendan so he could hear others say what she's taught him all his life.
"Until you prove to them differently, some people will perceive a young black man as someone who will hurt or rob them," she said.
Many of the speakers called for the U.S. Justice Department to launch a civil rights investigation into the Zimmerman case.
The Rev. Ralph Warnock, pastor at Ebenezer Baptist Church, told the crowd that Trayvon had a God-given right "to get home safe."
"And when he didn't, he had a right to have his death taken seriously," he said.