SCLC wants MARTA restrooms to open sooner
Ken Watts | 7/26/2013, 6 a.m.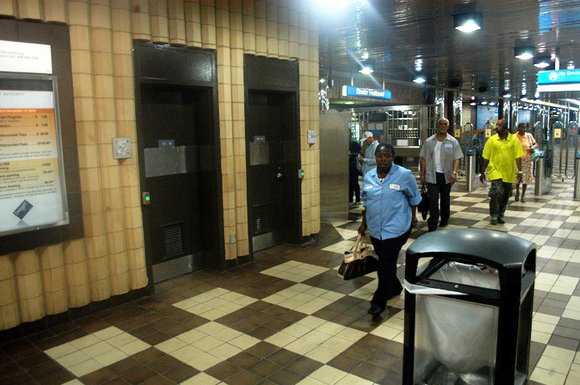 DECATUR — The DeKalb SCLC resumed demonstrations against MARTA on July 24 to protest the transit agency's continued closure of restrooms at most of its rail stations. The protesters carrying signs and chanting on bullhorns picketed the Decatur station during lunch hour Tuesday.
The SCLC says the restroom closures pose a hardship to the riders and potential public health issues.
The demonstrations follow talks between SCLC DeKalb Chapter President Nathan Knight and MARTA General Manager Keith Parker on July 22 about a timetable for reopening restroom facilities throughout the agency's system. Knight said the two sides made some progress but not enough.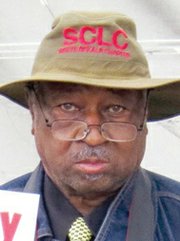 "MARTA agreed to reopen the bathrooms in December," Knight said. "We're trying to get them to open all of them this fall, maybe by September. There's nothing wrong with the restrooms. It's a staffing issue."
The transit system operates 38 rail stations with at least 76 restrooms that could be made available to the public and carries more than 227,000 train passengers daily.
Knight said MARTA is supposed to have a police officer, an attendant and an agent on duty at each station but has cut back on staff because of budget constraints.
MARTA closed its restrooms in rail stations to the public in September 2010 to help balance its $389.64 million operating budget in fiscal year 2011.
The notice on the MARTA Web site said "nine restrooms will be available to the public at transfer and end-of-line stations including Bankhead, College Park, Doraville, Edgewood/Candler Park, Five Points, Hamilton E. Holmes, Indian Creek, Lindbergh and North Springs. Restrooms at Five Points station will be open from 6 a.m. to 10 p.m. The remaining eight restrooms will be open from 6 a.m. to 7 p.m."
At the time, it said it was forced to ax $132.8 million from the budget and cut 40 bus lines, including 11 in DeKalb. In the toughest move, the agency laid off more than 300 workers.
At a May 4 community meeting in Decatur, Parker told residents the agency's financial picture is beginning to brighten and the transit system is looking to improve the overall customer experience, including the reopening of restrooms that have been closed for years.
In a statement to CrossRoadsNews this week, MARTA spokesman Lyle Harris said MARTA is trying to work out a cost-effective way of making more restrooms available.
"Although the majority of MARTA's rail station restrooms were not originally intended for public use, we plan to reopen some of these facilities as soon as possible for the comfort and convenience of our customers," Harris said.
"There are currently nine rail station restrooms that have always remained open. We invite community leaders and our customers to help us determine which additional restrooms should be reopened first.

"Although no final decisions have been made, we're looking for safe and cost-effective approaches to reopen some restrooms to ensure all of our facilities are always well-maintained and as secure as possible. We will continue sharing information about our progress on this important issue for MARTA and its customers."
Knight says MARTA loses $2.9 million a year because of turnstile jumpers at the stations.
"If they'd crack down on that, they'd have three-quarters of what they need to keep the restrooms open," he said.
At a demonstration on July 15 outside MARTA headquarters on Piedmont Road in Atlanta, state Sen. Vincent Fort said the closures pose a hardship on many riders who should be treated better.
"The elderly, the very young, the infirmed need the bathrooms to be open. But beyond that it symbolizes MARTA's attitude toward its customers and shows it doesn't value its customers the way it ought to."
Fort said MARTA executives don't have to suffer the inconvenience of having to search for a restroom and the senior citizens who pay their salaries ought to get the same consideration they have.
The SCLC cited the hardship to riders and potential public health issues. The two sides hope to hold more talks in the coming week.