Sheriff Tom Brown weighing run for Congress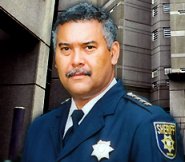 DECATUR — After almost 13 years as DeKalb sheriff, Thomas Brown is contemplating higher office – in Congress.
Brown confirmed this week that he is considering a 2014 run for the 4th District seat held by Hank Johnson. He said he will make a formal announcement in a couple of weeks.
"It has always been a goal of mine to serve the people of the 4th District," Brown said.
This is not his first time at this place. He said he thought about running four years ago.
Brown, who was appointed sheriff in 2000, said that a number of people have asked him to run.
An exploratory committee made up of former Georgia Sen. Steen Miles, urologist Emerson Harrison of Decatur, C.D. Moody of Lithonia, Stone Mountain dentist George Colletti, Rockdale County attorney Sherry Washington, and Charles Green of Covington has been conducting research and talking to people in the district.
"As the word gets out, I am starting to get phone calls," he said. "All have been favorable."
Brown said he has enjoyed being sheriff and is not tired but is not sure what God has in store for him.
"If Congress is what God has in store for me, it will happen," he said.
Brown points out that the Sheriff's Office was broke when he took office in the wake of the assassination of Sheriff-elect Derwin Brown, no relation to him. Then-incumbent Sheriff Sidney Dorsey, whom Derwin Brown defeated in the 1999 election, is serving a life sentence for arranging his murder.
Thomas Brown, who was the county's public safety director for 11 years when he was appointed interim sheriff, said that the office is "now a well-oiled machine," returning $500,000 a year to the county general fund in the past few years.
"We are one of 38 offices out of 3,500 nationwide with three national certifications," he said. "The jail is the best-maintained public building in DeKalb County."
The jail is accredited by the American Correctional Association, the Commission on Accreditation of Law Enforcement Agencies, and the National Commission of Correctional Healthcare.
Brown, who has run unopposed in all re-election bids, including for his fourth term in 2012, said he will have to step down as sheriff to run but is not afraid of the risk.
"Life is a risk," he said. "I have always taken risks."
In preparation for his run, Brown has been shoring up his national and international credentials. He left June 5 for an 11-day trip to Istanbul, Turkey, with a group of elected officials, distinguished individuals and other sheriffs.
"The conference and accompanying excursion sponsors have a goal of fostering long-lasting, cooperative, economic, educational and cultural relationships between Turkish and U.S. officials," a press release from his office said.
While in Turkey, the group will visit the Blue Mosque, Topkapi Palace and the Turkish Grand National Assembly (Parliament) "to increase the understanding of government affairs, economic development, and the religious and cultural diversity of the Turkish people."
Brown said he is honored to be a delegate this year and that this is his third trip to the Middle East. He previously traveled to Israel twice to study its law enforcement and military efforts.
He said he is very interested in the Turkish judicial system and its political perspective, considering its unique positioning in the Middle East.
He also expressed an interest in Turkey's renewed relationship with Israel.
The statement said that past participants have included state Rep. Michele Henson, U.S. Rep. Hank Johnson, GBI Director Vernon Keenan, and executives from the Georgia Department of Economic Development.
"This year's invitees were nominated by these and other past participants," it said, adding that Brown and the Istanbul Center are paying for the trip.
On May 14, Brown joined attorneys general and law enforcement leaders from around the nation for a briefing on the Obama administration's efforts and current legislation on "common sense" immigration reform.
"The White House Office of Public Engagement invited Sheriff Brown to be a part of a briefing which seeks his and other top law enforcement officials' input on one of the president's top legislative priorities," that press release said.