New Walmart opens June 12 at Hairston and Memorial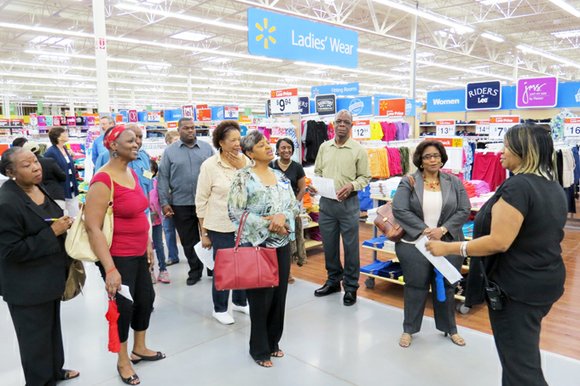 STONE MOUNTAIN — The new Stone Mountain Walmart opens for business June 12 at 8 a.m.
Store manager Dan Fagan and his team of 300 full- and part-time associates will welcome shoppers after a brief ribbon-cutting ceremony at 7:30 a.m.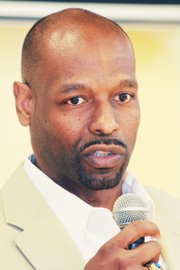 "It's been a long couple of weeks but we are ready to welcome our customers," Fagan said on June 7, after giving tours of the store to District 4 Commissioner Sharon Barnes Sutton and members of several community groups.
Fagan, who began his Walmart career in 1992 as an hourly cart pusher, said associates have been working hard to get the store at 5935 Memorial Drive ready for the community.
"Not only is this a celebration for our associates, it is a celebration for our community," he said.
Walmart will announce 6 grants to a number of local community groups after company and elected officials cut the ribbon on the new store. The grant recipients are the DeKalb Police Alliance, The Tucker Precinct, DeKalb Fire & Rescue, Memorial Drive Presbyterian Youth Group, the YMCA Youth Career Academy and Redan High School.
The new store, which took 11 months to build from its July 2012 groundbreaking, will open daily 6 a.m. to midnight. It offers a wide selection of general merchandise, groceries, and a pharmacy. Walmart says it will generate about $4.9 million in sales taxes.
The 152,000-square-foot store is located on a 14.3-acre former site of a car dealership at the corner of Memorial Drive and South Hairston Road.
Barnes Sutton, who represents the area, said the new Walmart will be a spark for the Memorial Drive corridor.
"It's going to provide job opportunities for the residents, help our community and provide a needed shopping experience for shoppers in this area," she said.
The Stone Mountain store is one of 17 Walmart stores opening in communities across the United States on June 12.
It is the first of three Walmarts under construction in south DeKalb County to open for business. The others are a Super Walmart under construction next to the Stonecrest Sam's Club in Lithonia, and a neighborhood Walmart under construction in the Covington Square shopping center at Covington Highway and Panola Road, also in Lithonia.
The new stores join four Super Walmarts, in Decatur, Stone Mountain, Atlanta and Lithonia.
The store features general merchandise, including apparel, electronics, toys, sporting goods, and lawn and garden items. It also offers a full line of groceries, including organic and natural selections and a pharmacy.
On June 15, Fagan will host "A Big Family Welcome" for the Stone Mountain community from 10 a.m. to 3 p.m. Fun family activities will include face painting, cupcake decorating and free food samples while supplies last.
He is also inviting shoppers to share their in-store experience at www.facebook.com/walmart3188.
Fans of the local page will receive information about rollbacks, in-store events, meal solutions and more.