Stephenson rising senior raising funds to study at Berklee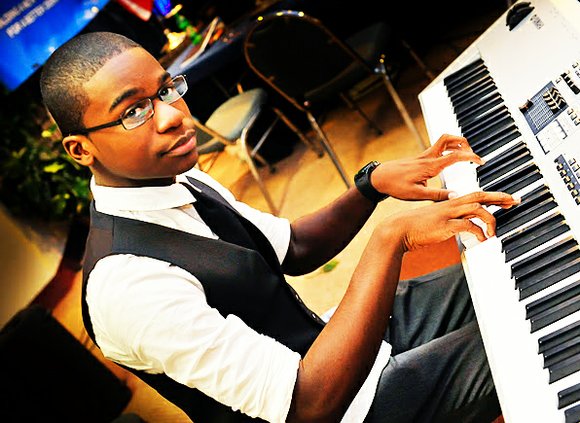 LITHONIA — As Isaiah Hill's fingers glide effortlessly over the keys of his 84-year-old baby grand piano, the soulful chords of "Armando's Rhumba" fill the air.
Hand over hand, up and down the keyboard, they move.
His shoulders rise and fall with each rhythmic phrase of the Chick Corea standard, each bursting with harmonic cadences and percussive melodies.
In perfect time with each stride of the bass line, his left foot taps instinctively as his right elongates staccatoed overtones with each push of the damper pedal.
"When I play, I feel at one with the keyboard," says 17-year-old rising senior at Stephenson High School in Lithonia. "I feel like I'm the vessel which music travels through. The piano isn't the instrument — I'm the instrument. The music is inside of me, and I make the music, not the keyboard or the piano that I'm playing."
On Feb. 7, his talent caught the eye of a national operations and outreach director for the prestigious Berklee City Music College while on a trip to Atlanta. A single tickling of the ivories was enough to prompt a rave review to Berklee College of Music Executive Director, Curtis Warner — and land him a full-tuition scholarship to the school's comprehensive Five-Week Summer Performance Program in Boston.
"When I first heard Isaiah play, my initial thought was that this is a young man with great talent, facility, creativity and clearly knows his instrument," Warner said. "He demonstrates a maturity in his playing that you don't come across too often among others of his age group. He has an old spirit."
Isaiah is one of two Georgia students, and one of 109 accepted in the program which takes place July 6-Aug. 9. More than 170 students from over 70 countries applied for the opportunity.

The tuition scholarship is valued at $4,300, but does not include room and board. Participants must come up with $3,300 to cover the five weeks of the program.
Since he got the news on May 10, Isaiah has been raising funds to help cover the cost.
Safer than skateboarding
Isaiah turned to music after his first love, skateboarding kept sending him to the hospital.
After two trips to the emergency room for a broken arm and broken thumb, his father Derrick Hill had enough.
"I told him he had to do something that's a little less dangerous," he said Wednesday.
His dad dusted off an old keyboard stored away in their closet.
"Isaiah turned on the radio, and played exactly what he heard on the radio," Hill said.
Today, he played R&B, gospel and pop songs by ear.
From there, Isaiah upgraded to a Yamaha Motif keyboard, and in 2005 his father surprised him with a 1929 Cable baby grand he found on Craigslist.
When Isaiah got to Stephenson High in the 9th grade, band director William Oliver encouraged him to join the school's jazz band.
It wasn't long before Isaiah had formed The Jazz Quartet with classmates Darius Casseyon drums; Siji Mark on bass; and Cameron Dixon on tenor saxophone.
On June 8, the group performed at the annual DeKalb Lawyers Association's annual scholarship breakfast attended by lawyers, judges, elected officials and supporters and got a standing ovation.
The group's past president Mereda Davis Johnson, said she invited The Jazz Quartet to play after hearing them perform at her husband's Congressman Hank Johnson's art competition in April.
"He was just magnificent," she said this week."When I found out he was in high school I couldn't believe it."
After his performance Davis Johnson passed the hat for donations.
"Everybody dug deep and gave," she said.
Isaiah left the breakfast with $982 in donations, but he is still $2,200 short of his goal.
Hill said his family welcomes any help to get his son to this once-in-a-lifetime opportunity.
Johnson said Isaiah is a good example of the many kids in the community who are doing tremendous things.
"You never hear the positive things about young black males," she said. "You always hear the negative. He's a very talented, very respectful young man."

To help send Isaiah Hill to Berklee Music College, call 678-463-1497.