Veterans, families surprised with mortgage-free homes
Ken Watts | 6/14/2013, 6:15 a.m.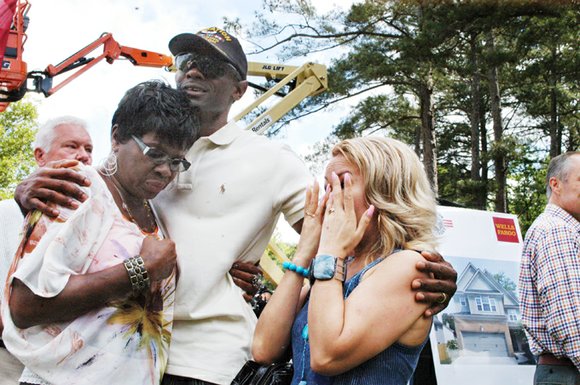 STONE MOUNTAIN — Five Afghanistan and Iraq War veterans, including Army Sgt. Ricardo Bailey from Decatur, got the surprise of their lives in Stone Mountain Park on June 1 – new homes, mortgage-free.
The presentations were made with military precision by Operation Homefront, founded in 2002 to provide financial help and housing to post-9/11 service members, their families and wounded warriors. The other recipients are Army Sgt. Joe Wallace, Army Spc. Chris White, Marine Sgt. Corey Bowen and Army Sgt. Michael Vanscoy,
Banking giant Wells Fargo and United Rentals are partners in the charity's program called "Homes on the Homefront."
The veterans and their families are from all over the country but have strong ties to the Atlanta area, including South DeKalb.
They thought they had been invited to the weekend cookout to talk informally with United executives about job opportunities. But then Amy Palmer, chief development officer for Operation Homefront, came out on the band stage to make an announcement.
"We've actually brought you here for another reason," Palmer said. "And with that, representatives will unveil your new homes!"
The crowd of about 200 roared as volunteers uncovered easels holding poster-sized pictures of five beautiful houses that had been discreetly placed near each family.
Shock and disbelief quickly morphed into unbridled joy.

In the 11 years since its launch, Operation Homefront has provided more than $128 million to help post-9/11 military families in 43 states and has given away 125 homes.
The renovated homes given away on June 1 came from Wells Fargo's metro Atlanta foreclosure property inventory.

Brian McCullough, Wells Fargo Military Affairs Program manager, said they have earmarked $30 million to help put veterans in homes and to help stabilize neighborhoods hit hard by foreclosures.
"Most of all, we want to show our appreciation for the service that these men and women have given to our nation," said McCullough, an Air Force veteran. "I've been to the Middle East six times since 9/11, so this resonates in a special place in my heart."
Homes on the Homefront is Operation Homefront's flagship program.
Spokesman Nick Kaylor said another 100 homes have been matched with families and are scheduled to be given away as soon as the houses are renovated. He said the program is life-changing.
"That's also why we have such a great amount of support from United Rentals, Wells Fargo and the local community."
The American Dream
Bailey, wife Archagul and their three children will move into a four-bedroom, two-and-a-half-bath house in Woodstock. The family had been living in an apartment in Decatur since his retirement in 2012.
"Oh, my God, it's awesome!" Bailey said when he caught his breath. "I thank Jesus for giving us the grace to be here, to be alive."
Bailey was born and raised in Trinidad and Tobago and moved to the United States in 1997 at age 27. He lived in the Bronx, N.Y., and witnessed the 9/11 attacks. He enlisted in the Army in 2006 as a fueler.
During his six-year career, Bailey deployed once to Afghanistan where he suffered injuries that led to his medical discharge.