Lewis urged to fight Social Security cuts
Ken Watts | 6/21/2013, 6:22 a.m.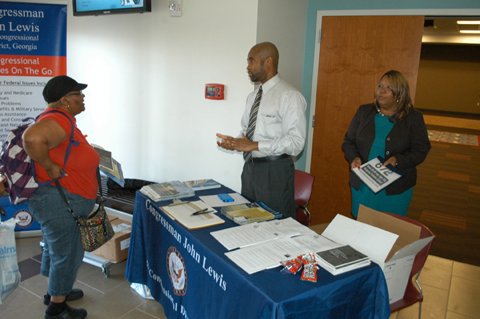 DECATUR — Georgia voters delivered more than 670 petition signatures to 5th District U.S. Rep. John Lewis asking him to vote against any cuts to Social Security, Medicare or Medicaid benefits.
The signatures were delivered June 11 to Jared McKinley, Lewis' outreach coordinator, at the Scott Candler Library in Decatur.
Yvonne Gamble, coordinator of the Progressive Change Campaign, presented the signatures to McKinley at Lewis' Congress in the Community event. Lewis did not attend.
The petitions ask him to sign a letter to President Barack Obama written by Rep. Alan Grayson (D-Fla.) and Rep. Mark Takano (D-Calif.).
"The idea of cutting Social Security makes us angry because several administrations since President Richard Nixon have borrowed from the Social Security trust fund and no one's been putting the money back," Gamble said.
The Grayson-Takano protest letter says: "We will vote against any and every cut to Medicare, Medicaid or Social Security benefits, including raising the retirement age or cutting the cost of living adjustments that our constituents earned and need." The full letter can be viewed at NoBenefitCuts.com.
McKinley said Lewis has always fought for the rights of the individual "so this is a no-brainer for him as far as the issue is concerned."
To date, 44 of Lewis' colleagues in Congress and more than 200,000 "citizen co-signers" across the country have signed the letter, according to BoldProgressives.org.
The activists are worried that a Social Security cost-of-living reduction coupled with new age requirements and cost-sharing for Medicare and Medicaid might be part of a deficit reduction deal between the president and congressional Republicans.
Obama's proposed fiscal year 2014 budget includes "chained CPI," a major benefit cut that affects 57 million Social Security recipients, veterans and disabled people. Republicans also have offered budgets that would cut Medicare and Medicaid drastically.
Gamble said an entitlement reduction bill might make quick progress in Congress.
"So we're moving proactively across the country, trying to get signatures for this petition signed in various congressional districts because we don't want a bill to come up for a vote before Congress takes its summer recess in mid-August," she said.
"You have many of the baby boomers who are reaching retirement age now, and we know that will spike the number of people applying for Social Security benefits and in the next 10 years lead to the largest number of new recipients ever."
Lewis' Washington spokeswoman Brenda Jones said Thursday he has "always strongly opposed tampering with entitlement benefits and will continue to do so." She said he has signed several "pledges" against cuts.