Novel explores family crisis
6/28/2013, 6 a.m.
Best-selling author Curtis Sittenfeld will discuss her new novel "Sisterland" on July 1 at the Decatur Library. The talk starts at 7:15 p.m.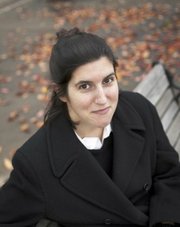 "Sisterland" explores family and identity, loyalty and deception, and the delicate line between truth and belief. It centers on a natural disaster that shakes a family to its core and forces a woman to confront the identity she's been fleeing since adolescence.
It is Sittenfeld's first appearance at the Center for the Book. Her previous novels, all of which hit The New York Times best-seller list, include "Prep," "The Man of My Dreams" and "American Wife." Her nonfiction has appeared in publications including the Times, Atlantic and Glamour. She is a graduate of Stanford University and the famed Iowa Writers Workshop.
The Decatur Library is at 215 Sycamore St. in downtown Decatur. For more information, call 404-370-3070.