Class of 2013 celebrates milestone in a tumultuous year
Ken Watts | 5/24/2013, 3:25 p.m.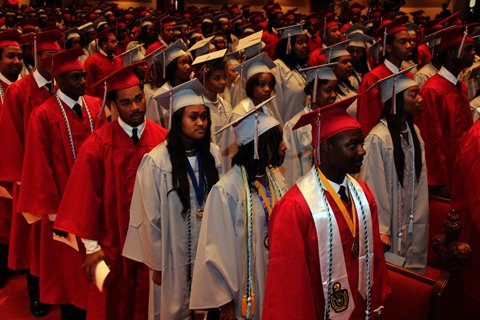 DeKALB COUNTY — As the Class of 2013 marches to strains of Pomp and Circumstance while family and friends roar their approval at graduation ceremonies through May 26, its graduates know a world of new opportunities awaits.
Interim Superintendent Michael Thurmond says it is no easy task these days to earn the right to walk across the graduation stage.

"By graduating high school, our grads have carved a path for their future far brighter than if they hadn't walked across the stage," he writes in a graduation message to the class. "The skills they used to earn that diploma – hard work and determination – are the same skills they can apply to excel in a college career, in honing a new skill or going to work at a new job."
The senior class sizes ranged from as few as six at Margaret Harris Comprehensive to 401 at Lakeside High. Altogether, 5,771 are up for high school diplomas and certificates this year, down from 5,932 seniors in 2012.
Just three years ago, DeKalb's senior class was 6,130.
The final number of 2013 seniors who will get diplomas wasn't available at press time Thursday.
The class departs the DeKalb School System at a time of great turmoil.
The district is entering its sixth month on accreditation probation, placed there by its accrediting agency – the Southern Association of Colleges and Schools – for governance and other issues.
Six of nine members of the School Board who are releasing their diplomas this week were appointed by Gov. Nathan Deal, while the district's elected board members removed from office by Deal are awaiting word on their fate.
As in the past, there are compelling stories of personal triumph over adversity among this year's graduates such as Southwest DeKalb's Coreyonna Welch who battled ovarian cancer to complete her senior year, rise to the top of her class, and become valedictorian.
And there's Stone Mountain's valedictorian Cyrianne Keutcha who spoke little English when she arrived in DeKalb from Cameroon with her family just four years ago but is now top of her class with a 3.987 GPA.
As the graduates, their families and friends pack stadiums, colleges and the Georgia Dome for one of life's most important milestones, they will be challenged by their class valedictorians and salutatorians, high-profile speakers from business and government, elected officials, and Deal to make the best of the opportunities ahead.
In her valedictory speech at their May 26 graduation at the Georgia Dome, Southwest DeKalb High magnet valedictorian Brittany Williams says she will tell her classmates that it's time to get more focused.
"Graduation is just the beginning of the rest of our lives," she said. "We're responsible for making our own decisions now and we won't have our parents to hold our hands anymore."
Willie James Moody, Miller Grove's valedictorian, will tell his classmates that success depends on much more than hard work.
"They have to have the 'will' and the 'hunger' that drives them forward and makes it possible to achieve goals," he said.