DeKalb hosts veterans memorial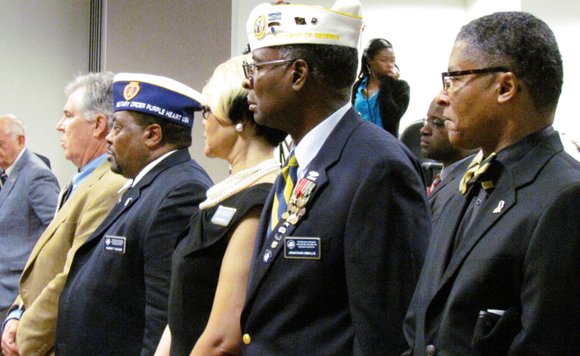 DECATUR — A lone bugler played "Taps" as DeKalb County officials, residents and family members stood in somber silence.
As the music echoed through Maloof Auditorium on May 23 for the county's annual Veterans Memorial Tribute, faces were solemn.
Brigadier General Joe Jarrard reminded the audience that Memorial Day celebrates the sacrifice of veterans.
"It's a time to to look back in gratefulness to all those fallen heroes of our country," said Jarrard, an Assistant Adjutant General in the Georgia Department of Defense.
In the audience were veterans including District 2 Commissioner Jeff Rader and state Sen. Ronald Ramsey.
Distinguished Service to Veterans Awards were presented to DeKalb Chief Magistrate Judge Berryl Anderson and Brenda Melton.
Anderson was honored for implementing a veterans calendar that reduced crime and drug dependency in DeKalb's diversion treatment court. Melton was recognized for her work educating government agencies on the unique needs of women veterans.

Victoria Collier, a Decatur attorney and Air Force veteran, received a Distinguished Military Veteran Award; and Command Sgt. Maj. Carmen Morales received a Distinguished Military Service Member award.
Jarrard said taking time to honor heroes for their service is important.
"This weekend, when you see everybody at the park burning burgers and having a great time, remember that we can enjoy life in the greatest country because of our veterans and those who have given their lives for their nation," he said.