Gates Millenium Scholars awarded full-ride scholarships to college
Ken Watts | 5/24/2013, 11:54 a.m.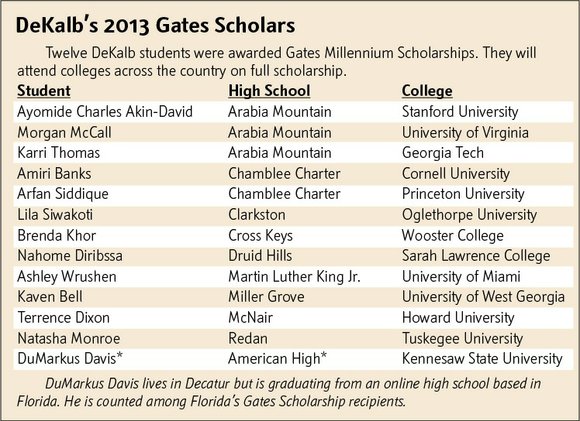 STONE MOUNTAIN — A dozen DeKalb graduates are going to college this fall on full-ride 2013 Gates Millennium Scholarships.
The seniors from nine high schools are among 87 metro Atlanta students named April 26 by the United Negro College Fund, which manages the Gates Millennium Scholars Program.
Eight of the 12 students are from South DeKalb high schools. Arabia Mountain High has three recipients, the highest number of any DeKalb school. The group includes two valedictorians and two salutatorians.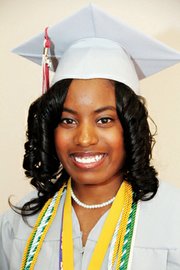 The South DeKalb scholars are Ayomide Charles Akin-David, Karri Thomas, and Morgan McCall from Arabia Mountain High; Lila Siwakoti, Clarkston High; Terrence Dixon, Ronald E. McNair High; Ashley Wrushen, Martin Luther King Jr. High; Kaven Bell, Miller Grove High; and Natasha Monroe, Redan High.
Ayomide Akin-David is Arabia Mountain's valedictorian and his classmate Morgan McCall is one of the school's three salutatorians. Jonothan Smith is the MLK Jr. High valedictorian, and Terrence Dixon is the salutatorian at McNair High School.
Last year, 15 DeKalb students got Gates Scholarships. The Georgia scholars are among 1,000 named this year from 46 states, the District of Columbia, and five U.S. territories.
This year, another DeKalb County student, DuMarkus Davis, who attends the online American High School based in Hollywood, Fla., also won a Gates Scholarship. Even though he lives in Decatur, he is counted among Florida's award recipients.
The good-through-graduation Gates Scholarships, worth hundreds of thousands of dollars to each scholar, can be used to pursue degrees in any undergraduate major at the accredited college or university of the recipient's choice.
Michael L. Lomax, president and CEO of the UNCF, says the Gates Millennium Scholars Program is not only an investment in the futures of these students, but also in the country's economic and social strength and competitiveness.
"Today more than ever it is important that our young people get the education they need, and that we need them to have in order to remain competitive in the 21st century," he said.
"For the 20,000 young men and women who will attend college as Gates Millennium Scholars, the financial support, leadership training, mentoring, and academic and social support they receive will enable them to become college graduates and our next generation of leaders."
Since its inception in 1999 with a $1.6 billion endowment from the Bill and Melinda Gates Foundation, the scholarship program has funded 20,000 high-performing, low-income students to attend 800 private and public schools – among them, Ivy League colleges and flagship state universities across the country.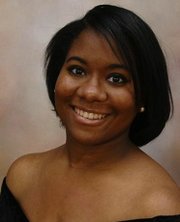 Arabia Mountain's Morgan McCall, who will attend the University of Virginia and major in economics and sociology, says she is aiming for a career in consulting for a financial institution, teaching at the university level, or in market analysis.
"I'm still very excited and surprised," said Morgan.
"I'm especially thrilled for my mom who helped me through the very long, very complicated application process. I'm glad she gets to see all her love, guidance and support pay off."
Classmate Ayomide, who goes by his middle name, Charles, is headed to Stanford University to major in computer engineering.