Nature photos at Callanwolde
5/24/2013, 3:59 p.m.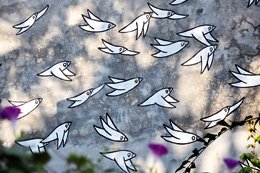 ATLANTA — Decatur photographer and artist Ronald Nuse will offer four different interpretations of the hidden mystery of nature at the June 7 opening of Callanwolde Fine Arts Center's new gallery.
"Nature: Four Ways" kicks off at 7 p.m.
The exhibit features "Falling Shadows," which showcases traditional landscapes; the "Street Art" series, which explores how art in public places interacts with its environment; the "Bamboo Pentaptych" series depicting bamboo images in five related panels; and "Four Directions," a surrealist depiction of nature.
Photographs will be on display through Aug. 30.
The gallery is located on the second floor of the main building in the Callanwolde mansion at 980 Briarcliff Road in Atlanta.
Viewing hours are weekdays from 10 a.m. to 8 p.m. and Saturdays 10 a.m. to 3 p.m.

For more information, visit www.callanwolde.org or call 404-872-5338.