Scholar athletes winners in the classroom and on the field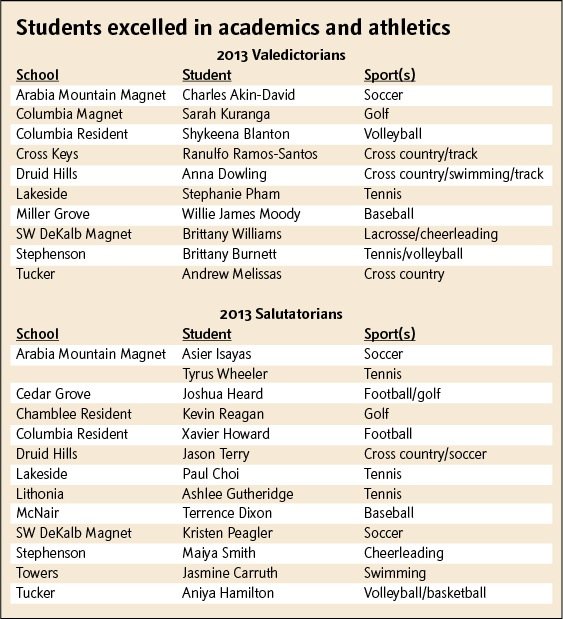 SOUTH DEKALB — Between Advanced Placement classes and homework, balancing a sport can be tough, but those challenges did not deter some members of the Class of 2013 who emerge with high marks both on the field and in the classroom.
Twenty-three of the 54 valedictorians and salutatorians also competed in football, basketball, baseball, track, soccer, competitive cheerleading, cross country, golf, gymnastics, soccer, swimming or tennis, and many of them are headed to college this fall on both academic and sports scholarships.
Scholar athletes account for 46 percent of this year's top students. They competed in a dozen different sports, and seven played more than one sport during the 2012-2013 school year.
From Arabia Mountain High's magnet program, three athletes are top students – Rams soccer teammates Ayomide Charles Akin-David, a midfielder and forward, and midfielder Asier Isayas are valedictorian and salutatorian, and tennis player Tyrus Wheeler is co-salutatorian.
Columbia's magnet valedictorian Sarah Kuranga is a three-time DeKalb County girls golf champion. The straight-A student earned three trips to the state tournament during her high school career, including a top six finish in 2012.
Shykeena Blanton, the school's resident valedictorian, was a member of the Lady Eagles' volleyball team.
Resident salutatorian Xavier Howard was one of two DeKalb football players to earn top academic accolades. He was joined by Cedar Grove co-salutatorian Joshua Heard, who led the Saints as quarterback.
At Miller Grove, valedictorian Willie James Moody played baseball for the Wolverines. This year, he tied for 12th-highest batting average for DeKalb County during the regular season, hitting at a .441 clip.
Druid Hills, Lakeside, Stephenson and Tucker join Southwest DeKalb's magnet program as the only five DeKalb schools with athletes as both valedictorians and salutatorians.
Druid Hills valedictorian Anna Dowling competed in the Class AAAAAA Cross Country State Championships, the state sectionals in track, and was a member of the Red Devils swim team. Salutatorian Jason Terry did double duty on the cross country team and soccer team, which advanced to the Sweet 16 round of the Georgia High School Association state playoffs.
At Lakeside, valedictorian Stephanie Pham and salutatorian Paul Choi led their senior class with near-perfect GPAs. The pair also helped lead their tennis team to state tournament appearances this spring.
Brittany Williams, Southwest DeKalb High's magnet valedictorian, showcased her athletic abilities in cheerleading and lacrosse. Her teammate Kristen Peagler, who was the school's magnet salutatorian, joined her in competing at the varsity lacrosse level for the first time this year. In its first season, the Panthers just missed reaching the state playoffs.
Kristen is also a record-setting performer on the soccer field. She scored 55 goals during the 2012-2013 season – breaking her own record of 50 from last season – and setting an all-time county high.
At Stephenson, valedictorian Brittany Burnett played tennis and volleyball, and salutatorian Maiya Smith was on the varsity cheerleading team.
Another pair of athletes snagged the top two spots in Tucker High's 2013 graduating class. Valedictorian Andrew Melissas was a cross country runner, and salutatorian Aniya Hamilton played basketball and volleyball for the Lady Tigers.
Aniya helped lead the volleyball team to the Sweet 16 last fall with a 29-15 record. She was also the second leading rebounder for the 25-5 girls basketball team, who made it to the Elite Eight in the GHSA playoffs.
The other scholar athletes include Chamblee resident salutatorian Kevin Reagan, Cross Keys valedictorian Ranulfo Ramos-Santos, Lithonia's salutatorian Ashlee Gutheridge, McNair salutatorian Terrence Dixon, and Towers salutatorian Jasmine Carruth.
Of the 23, three will be attending Ivy League schools.
Sarah Kuranga, Columbia's magnet valedictorian, will attend Columbia University on a full golf scholarship, valued at $292,000.
Cedar Grove quarterback Joshua Heard is taking his athletic and academic skills to Yale University where he will play football for the Bulldogs on a full athletic scholarship.
Stephenson valedictorian Brittany Burnett has a full academic scholarship to Cornell University.
Southwest DeKalb's magnet salutatorian Kristen Peagler has a full-ride athletic scholarship to Presbyterian College in Clinton, S.C., to play soccer for the Blue Hose.
Two athletes – Arabia Mountain's magnet valedictorian, Ayomide, and McNair salutatorian Terrence Dixon – got full-ride Gates Millennium Scholarships.