Nancy Jester launches campaign to lead Georgia's school systems
Ken Watts | 11/15/2013, 6 a.m.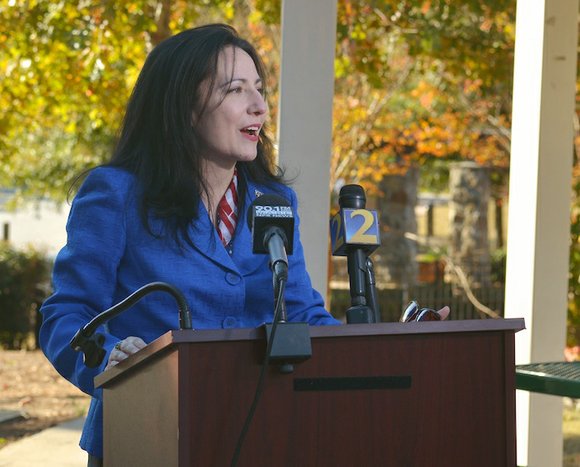 Former DeKalb School Board member Nancy Jester wants to be Georgia's next school superintendent.
Jester was elected to the District 1 seat representing North DeKalb in 2010 and resigned in February. She announced on Nov. 11 that she will seek the statewide office in 2014.
Incumbent State Superintendent John Barge is running for governor.

Jester will run as a Republican in the GOP primary on May 20.
State Rep. Alisha Thomas Morgan, a Democrat from Austell, announced her candidacy on Nov. 12.
The state qualifying period is April 28-May 2, 2014.
Jester, who calls herself a "mom with a calculator," said education in Georgia should "provide an on-ramp into a solid, middle-class life," but that for many it's not happening.
"With only 67 percent as our graduation rate, too many children aren't making it to that road because that on-ramp is broken."
Jester said she and voters can refocus the state's educational spending and priorities.
"Together we can teach our children about freedom and make sure they inherit it through a solid and meaningful education. Today, together we can start to put the classroom first."
Jester was one of six DeKalb board members suspended by Gov. Nathan Deal in February after the district's accrediting agency put it on probation for governance issues and financial concerns. Jester resigned and did not seek reinstatement with her former colleagues, who were all denied.
She said she's proud of her record in DeKalb and isn't worried the controversy will have a negative impact on her candidacy.
"You can ask anybody here with me – I uncovered the financial malfeasance in DeKalb," she said.
She has picked up the endorsement of state Sen. Josh McKoon, a Columbus Republican, who joined her at her announcement event and praised her service on the board.
"Nancy asked the tough questions that revealed the gross mismanagement which even now is resulting in positive change for children in DeKalb County," McKoon said.
Jester joins three other Republicans in the race for the nomination – Bartow County School Board member Matt Schultz, former teacher Richard Woods, and businessman Fritz Johnson.