FAMU alumni to support Marching 100, honor Champion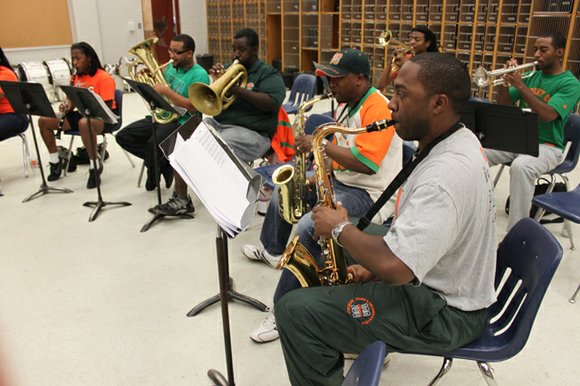 When Florida A&M University's Marching 100 Alumni Band members get together, it's like a great big family reunion.
"It's fun and constant laughing," said Lenise Bostic, a piccolo player who is quick to announce that "my piccolo section is the best section on earth."
After a two-year hiatus, the alumni band will be back in action for the Rattlers' Oct. 19 homecoming game against the Howard University Bison in FAMU's Bragg Memorial Stadium.
On Oct. 17, Bostic and her husband, Cory, also a FAMU graduate and a trumpet player, will head down the road to Tallahassee for the festivities.
They will be up early on game day, decked out in the orange and green alumni sweat suits and 100 T-shirts and caps for the parade that starts at 8 a.m.
During the game that kicks off at 2 p.m., they will duel the Marching 100 before playing together during halftime.
"It will all be in fun," Bostic said. "But we will show them that the old folks still have it."

The Lithonia couple are among 45 metro Atlanta alumni making the trip this year to help welcome back the Marching 100 after a two-year suspension following the death of drum major Robert Champion in a hazing incident.
Champion, a Southwest DeKalb High School graduate, was severely beaten on the band's charter bus after the November 2011 Florida Classic weekend in Orlando. A dozen band members who played with Champion are facing criminal charges and up to 15 years in prison. His parents, Pam and Robert Champion, have sued the college.
Bostic said the alumni band will play to honor Champion's memory and to help their school move on.
"We were saddened and pained by what happened to Robert," she said Tuesday. "Those 12 people made a horrible decision on that bus. But that is not what the 100 is about."
Bostic, who helped organize the alumni band members for the trip, said the Marching 100 is about love and laughter.
"We own what happened," she said. "We are going to make sure it never happens again, and we are never going to forget Robert."
'We have got to learn from this'
Since mid-September, the Atlanta group has rehearsed at various high schools. On Oct. 5, they gathered at Martin Luther King Jr. High School in Lithonia for a three-hour practice session. Ten people showed up.
Bostic, the Atlanta chapter's vice president, said 45 people, including several from South DeKalb, have committed to go to homecoming and to attend at least one rehearsal session. Each Saturday, up to 25 people show up at practice. They also practice on their own.
In past homecomings, about 400 have performed in the alumni band. Bostic thinks that this year the group is going to be much bigger.
"We never know how many until we get there," she said. "We are all extremely excited that the 100 is back. We are just happy to have the band back."
In the wake of Champion's death, student enrollment dropped by 1,000 and the school suffered losses of $13 million.
To help rebuild enrollment, on Sept. 27, FAMU interim President Larry Robinson awarded more than $1 million in scholarships to 36 metro Atlanta seniors, including two from Southwest DeKalb High School in Decatur.
Ellis Gainey, the Atlanta alumni chapter president, said the chapter is doing all it can to help reinforce good behavior among prospective FAMU recruits.
He said they have hosted workshops and clinics for local high school students.
"We are teaching them how to lead a band and what positive leadership looks like," he said.
Bostic, who is an assistant principal at Fred Armon Toomer Elementary in Atlanta, said alumni are working to improve FAMU's image and help it move on from what happened to Champion, whom she met for the first time in 2011.
"We have got to learn from this," said Bostic, who has eight children of her own. "We have to grow from this."