Brown promises 'stronger voice' in Congress
Ken Watts | 10/23/2013, 1:53 p.m.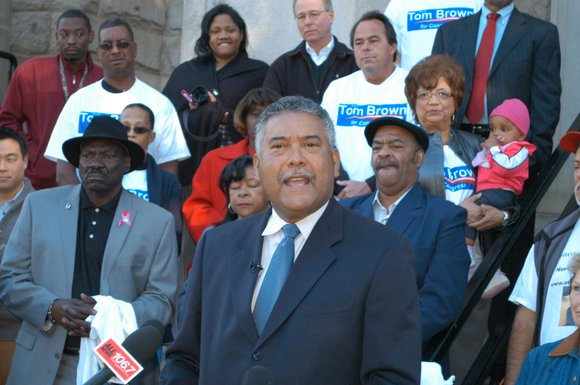 DECATUR — Bolstered by cheers from supporters on the steps of the Old Courthouse in downtown Decatur, DeKalb Sheriff Thomas Brown on Oct. 23 officially announced his candidacy for the 4th Congressional District seat held by Hank Johnson.
"I know this is not going to be an easy race," Brown told the crowd. "But I'm encouraged by all I have heard in my many visits with 4th District constituents in DeKalb, in Newton, in Gwinnett and in Rockdale counties over the last three months. This district is ready for a change."
Brown said with 42 years of experience and training in public service, he is uniquely prepared to meet the challenge of repairing what most constituents and most Americans believe is a broken government. Brown thinks he'll be a stronger voice for the district in Washington.
"This is an issue of being in the forefront of crafting legislation and being in a leadership role of changing America and not just waiting for someone else to come up with the solution and then voting the right way. I'm going to vote the right way but I want to be in the leadership role," he said.
The kickoff ends an exploratory period in which Brown huddled since July with allies to assess his chances against a well-entrenched and well-liked incumbent.
Brown said he brings considerable strengths of his own to the campaign.
"I'm a well-entrenched, well-liked sheriff. I've been elected four times in this county with 85 percent of the vote every time," Brown told reporters. "People trust me. People believe in what I say. And one of the good things about it is that he [Johnson] is well liked and so am I. So now it comes down to who is the best. Do you want the best? I believe I am the best."
Brown said his top priority is public education. The federal government has a small role in education, he said, but it still can help shape how we train young people for high technology jobs.
"We have to make sure the generation of children that are coming up are prepared to take that next step," Brown said. "So I want to shape a jobs program that's not just built on government work but on entrepreneurship making sure our young people are prepared."
Brown also said he advocates strong constituent services and reliable help for the nation's veterans.
Campaign Manager Angelo Fuster said Brown is sending a message to voters by announcing his candidacy at four scheduled stops on Wednesday:
Decatur: Old Courthouse, Gazebo Side, 10 a.m.
Lilburn: Government Complex. 76 Main Street 12 noon
Conyers: Welcome Center, 901 Railroad Street/Olde town 2:00p.m.
Covington: Downtown Square (across from old Courthouse) 4:00p.m.
"We want to go to every corner of the district," Fuster said. "The district is made up of DeKalb, Gwinnett, Newton and Rockdale counties. One of the raps against the current congressman is that he is perceived as the congressman from DeKalb County, not the 4th district."
The primary election is scheduled for May 2014.
Rep. Hank Johnson released a statement Wednesday afternoon reacting to the challenge from Brown.
"President Obama needs Democrats united behind him to resist Tea Party attacks on the economy and health care reform. All Americans have the right to run for office in our democracy and I will respect any challenge, but it's too early for primary politics and I'm focused on getting things done, not running for re-election," Johnson said.