Enrollment assistance for Healthcare Marketplace
Ken Watts | 10/25/2013, 6:03 a.m.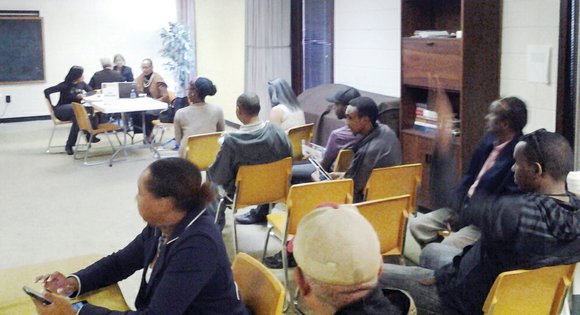 Turnout has been low at four Healthcare Marketplace meetings hosted by DeKalb Commissioner Sharon Barnes Sutton and two partners, but 45 people have enrolled for insurance under President Barack Obama's Affordable Care Act.

Barnes Sutton, the District 4 commissioner who has been co-sponsoring enrollment meetings with Oakhurst Medical Center and Enroll America, said the sessions held in Decatur and Stone Mountain are designed to counteract some of the difficulty people are encountering signing up at healthcare.gov.
"This is a major cause," she said. "Affordable health care is important to everyone. I just felt that our citizens should be able to take advantage of this opportunity."
Barnes Sutton said turnout has been slow because it's difficult to get the word out, but that more and more people are showing up as they hear about the meetings.
"If we are able to help only one person, it's worth it. We will be happy to help more people and we will continue having these until the Web site is working better."
At the meetings, navigators, trained assistants, help applicants through the online process and answer their questions about how the exchanges work.
Gwen Lowman, a health clinic manager from Lithonia, had high praise for the session she attended on Oct. 23 at Memorial Drive Presbyterian.
She has been without health insurance since late September when the doctor she works for left the clinic to establish his own practice. No longer on a group plan at work, she's in the market for an affordable individual policy.
"They were really well-organized and cleared up a lot of my questions about the exchange," she said Oct. 24. "After taking my basic information, they put me with a navigator who explained the Web site and looked for a plan that would work best for me."
Even though technical problems hampered their search, the navigators gave Lowman a paper application so she could continue the sign-up process on her own time.
Lowman said she paid $193 a month for medical coverage at her old job and it came with a $750 deductible.
A private policy she found on her own was $250 with a $10,000 deductible. Lowman said she is confident she'll be able to find something on the exchange at the $250 a month price but with a lower deductible.
Linda Conway of Pine Lake attended the Oct. 23 meeting as well and said she has insurance with Blue Cross but the policy is no longer affordable.
"My income fluctuates year to year because I do a lot of freelance work. They notified me a few weeks ago that they're raising my premium from $633 to $672.12 and they're blaming it on Obamacare, which is a lie."

She found a policy on the exchange for $366.
"Guess what," she said. "One of the carriers offering that price point was Blue Cross."
But she had to give it up because she miscalculated her income, and her search continues.
Barnes Sutton's chief of staff, Judy Brownlee, said the meeting was a success despite serving only 16 people.
"Most of them were without coverage for a long time and they left here feeling pretty good that they got help," she said.
Navigators expect the Web site problems to be fixed soon and the focus will turn to whether the reform is helping people.
Brenda Pace, an Oakhurst Medical navigator, said people are grateful for the health care choices they now have. "I've gotten many hugs and kisses and I'm just excited about doing this," she said.
Enrollment continues until March 31. Coverage begins Jan. 1.