Thomas Brown will challenge Johnson for 4th District seat
Ken Watts | 10/25/2013, 6:02 a.m.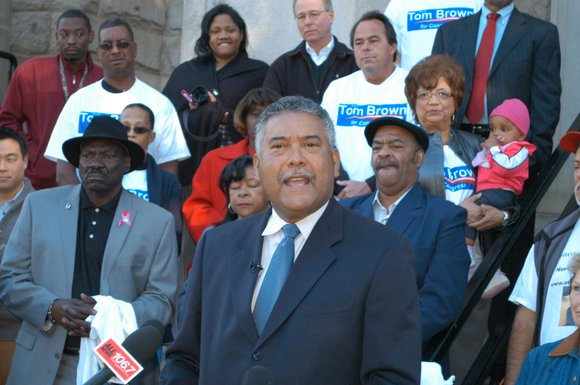 DeKalb County Sheriff Thomas Brown wants to go Washington, and he announced this week that he will challenge 4th District U.S. Rep. Hank Johnson for the seat.
Brown, 60, who has been sheriff for 13 years, said he knows that it is not going to be an easy race.
"But I'm encouraged by all I have heard in my many visits with 4th District constituents in DeKalb, in Newton, in Gwinnett and in Rockdale counties over the last three months," he said at the first of four campaign kickoffs on Oct. 23. "This district is ready for a change."
In his DeKalb kickoff on the steps of the Old Courthouse in downtown Decatur, Brown was cheered by about 60 supporters.
He said that his 42 years of experience and training in public service "uniquely prepared" him to meet the challenge of repairing what most constituents and most Americans believe is a broken government.
He said that he can be a stronger voice for the district in Washington than Johnson, who has held the seat since 2007, has seniority on the House Judiciary and Armed Services committees, and has close ties with President Barack Obama.
Brown said he can do better in Washington.
"This is an issue of being in the forefront of crafting legislation and being in a leadership role of changing America and not just waiting for someone else to come up with the solution and then voting the right way," he said. "I'm going to vote the right way but I want to be in the leadership role."

Wednesday's kickoff comes after months of study for Brown and his team.
He first said in June that he was exploring the idea of running. On July 17, he launched an exploratory committee of political allies and community leaders to help him determine whether to run for the office.
Brown, who was the county's public safety director for 11 years, was appointed sheriff in December 2000 after the assassination of Sheriff-elect Derwin Brown. He was unopposed in his re-election bids in 2004, 2008 and 2012, which had not happened in 30 years in DeKalb.
He took the Sheriff's Office from a tumultuous past to an agency that has garnered accreditations from the American Correctional Association, the Commission on Accreditation of Law Enforcement Agencies, and the National Commission of Correctional Healthcare. He and his staff have returned more than $500,000 to the county general fund over the past several years.
Brown said Wednesday that he brings considerable strengths to the campaign and can bring dynamic leadership and a strong voice to the 4th District.
"I'm a well-entrenched, well-liked sheriff," he said. "I've been elected four times in this county with 85 percent of the vote every time. People trust me. People believe in what I say."
He said that Johnson is also well-liked.
"So now it comes down to who is the best," he said. "Do you want the best? I believe I am the best."
In a statement Wednesday, Johnson said that all Americans have the right to run for office in our democracy and that Obama needs Democrats united behind him to resist Tea Party attacks on the economy and health care reform.