Homegoing for Donna Edler Saturday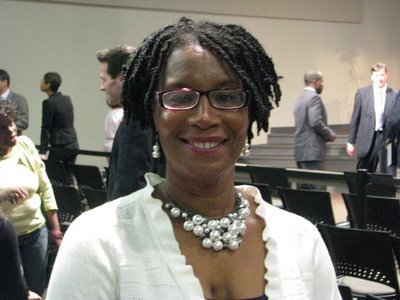 A homegoing service for former DeKalb School Board member Donna Edler is scheduled for 11 a.m. Saturday Nov. 2 at the Covenant Church, 1700 Corey Boulevard, Decatur 30032.
Edler died Tuesday at her home in Stone Mountain after a long battle with breast cancer.
Her husband Darryl Edler said she passed away at 2:03 p.m. surrounded by family and friends.
"We gave this disease a good fight," he said. "She looks so peaceful now."
Edler, 52, was diagnosed with breast cancer in 2010, just before launching her run for the District 7 School Board seat.
She serve until February 2013 when she was one of six board members removed from office by Gov. Nathan Deal after the district being placed on academic probation by its accrediting agency.
Edler appealed her removal and was scheduled to appear at a Nov. 19 hearing in Fulton County Superior Court before Judge Cynthia D. Wright.
Sarah Copelin-Wood who served on the school board with Edler, said she will be missed.
"I am just overwhelmed that she is gone," she said Tuesday. "She was a hard worker and she served her district well. She captured the hearts of a lot of people."
Copelin-Wood, the former Distrct 3 representative, said that she worked with Edler to stop the closure of schools.
"We ultimately lost, but we put up a good fight," she said.
Copelin-Wood said that fighting their removal from the school board was stressful for everyone, especially for Edler, who was sick.
"But she took it like a champ and she never stopped trying.
Reacting to news of his colleague's passing, former board chair Dr. Eugene Walker called Edler a great individual and a consummate public servant.
"I'm so sorry to hear about this," Walker said. "She was dedicated to her family and the people she served and was a great role model. She battled cancer like a true champion. There's no doubt in my mind that being removed from office without doing anything wrong added to her stress. I share the family's sorrow but Donna's children can be truly proud that their mother served the community extremely well.
Jesse "Jay" Cunningham, who represented District 5, remembers Edler as a strong woman who cared about DeKalb kids, those in her district and children throughout the school system.
"She was a consistent advocate for equal access to quality education for all students and she fought against the closure of schools during redistricting." Cunningham said. "She was not a quitter. She stood up for district employees including bus drivers and cafeteria workers."
Edler also leaves to to mourn her, sons Darryl Jr, 23 and Christopher, 19; and daughter Rachel, 14.
Bishop Quincy L. Carswell Senior is Senior Pastor Covenant Church where Edler's homegoing service will be held and Quincy L. Carswell II is Pastor.
Rev. Mark Lomax, Pastor of First Afrikan Church will be the Eulogist.
Donna Edler's family is inviting all of her friends, colleagues and supporters to attend.