'Anita' story captured in documentary
4/4/2014, 6 a.m.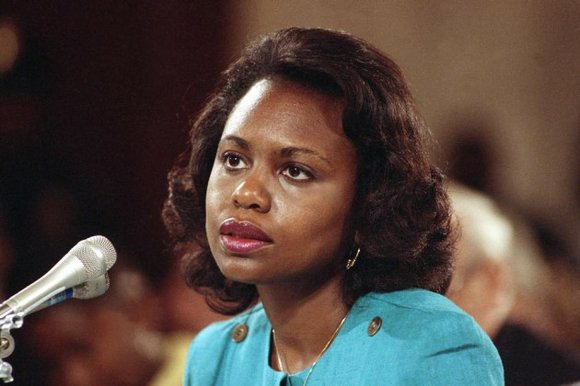 The story of law professor Anita Hill, who accused Supreme Court nominee Clarence Thomas of unwanted sexual advances in 1991, will be screened in Atlanta on April 5 at the UA Tara Cinemas.
Screening of "Anita," a documentary on the explosive Senate hearings in 1991, takes place at 7:15 p.m.
It will be followed by a discussion hosted by Atlanta Women for Equality and a Q&A with Dr. Beverley Guy-Sheftall of Spelman College. The film will be screened through April 10.

Hill's testimony ignited a political firestorm about sexual harassment, race, power and politics that still resonates.
For the first time on film, Hill speaks about her experience at the hearings and her impact on issues of sexual harassment, workplace rights for women and men, social justice, and equality.
The 2013 documentary is directed by Academy Award-winning filmmaker Freida Mock. It is both a celebration of Hill's legacy and a rare glimpse into her private life with friends and family, many of whom were by her side that fateful day 22 years ago.
Hill speaks openly and intimately about the experiences that led her to testify before the Senate and the obstacles she faced.
She also candidly discusses what happened to her life and work in the past two decades.
An entire country watched transfixed as a poised, beautiful African-American woman in a blue dress sat before a Senate committee of 14 white men and with a clear, unwavering voice recounted the repeated acts of sexual harassment she said she had endured while working with Thomas.
She alleged that Thomas, as her supervisor at the U.S. Department of Education and the Equal Employment Opportunity Commission, had made sexually harassing statements.
On that October day in 1991, Hill, a bookish law professor from Oklahoma, was thrust onto the world stage and instantly became a celebrated, hated, venerated, and divisive figure.
Her graphic testimony was a turning point for gender equality. She has become an American icon, empowering millions of women and men around the world to stand up for equality and justice.
Thomas was eventually confirmed and took his seat on the Supreme Court.
Mock earned an Oscar for 1995's "Maya Lin: A Strong Clear Vision." She also earned four other Oscar nominations for her work.
Women, Action and the Media is holding special events throughout the country surrounding "Anita." For details, visit www.womenactionmedia.org/events
/see-anita-see-more-women-in-film.
UA Tara Cinemas 4 is at 2345 Cheshire Bridge Road N.E. For more information, visit http://anitahill-film.com or call 404-634-5661.