Clean, working restrooms now required
4/4/2014, 3:48 p.m.
Businesses and other establishments in DeKalb County are now required by law to have functional and available restrooms.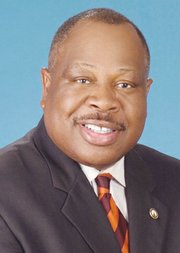 The ordinance, which went into effect March 25, was introduced by Super District 7 Commissioner Stan Watson.
The ordinance mandates businesses, stores, offices, parks and other places where goods or services are sold or provided to operate restrooms that are clean, safe and functioning.

This amendment also includes DeKalb parks, schools, colleges or universities under the same directive.
"I thank community leaders and my colleagues for their support," Watson said in an April 1 statement. "It is of the utmost importance that we set standards for DeKalb County that enhance quality of life."
Residents who want to register a complaint may initiate enforcement with the Police Department, Code Compliance or the DeKalb Board of Health. Owners found to have public restrooms in bad repair may be subject to a fine and/or imprisonment.