'Created Equal' series at Stonecrest
4/4/2014, 5:37 a.m.
A film and discussion series focusing on the history of the civil rights movement in America kicks off on April 7 at the Stonecrest Library in Lithonia.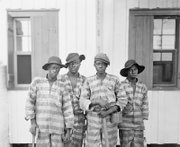 "Created Equal: America's Civil Rights Struggle" is designed to encourage discussion, understanding and appreciation for this period of U.S. history. It begins Monday with a screening of the documentary "Slavery by Another Name," which focuses on the years following the Civil War when new forms of forced labor emerged in the South that kept hundreds of thousands of African-Americans in a new type of bondage.
Show time is 6 to 7:30 p.m.
"Freedom Riders" will be screened from 6 to 8 p.m. on April 8. It tells the story of more than 400 black and white Americans who risked their lives between May and November 1961 for simply traveling together through the Deep South on buses and trains. The Freedom Riders deliberately violated Jim Crow laws and met with bitter racism and mob violence. Many buses were firebombed.
On April 12 from 2 to 4 p.m., Dr. Pellom McDaniels III, Emory University faculty curator of African American Collections and assistant professor of African American Studies, will lead a discussion about the changing meaning of freedom and equality in America. He will use the films as a starting point, but patrons are not required to see the films to participate.
"Created Equal" is made possible through a major grant from the National Endowment for the Humanities as part of its Bridging Cultures initiative in partnership with the Gilder Lehrman Institute of American History. For more information, visit www.neh
.gov/created-equal.
Stonecrest Library is at 3123 Klondike Road. For more information, visit dekalblibrary.org or call 770-482-3828.