Fatherhood Initiative seeks to strengthen dads
4/4/2014, 6 a.m.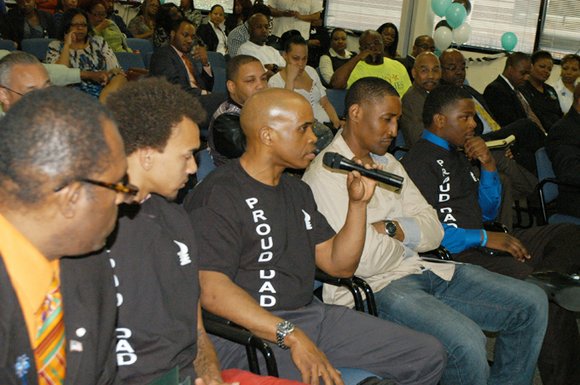 Families in DeKalb and Fulton counties with absent fathers now have the Fatherhood Initiative for assistance and resources.
The Department of Family and Children Services launched the initiative on April 2 in Decatur to serve 43,000 families. The initiative is exploring ways to strengthen divorced, incarcerated, unemployed or underemployed dads to fulfill their roles as providers and positive role models for their children.
Henry Carter, project director of the Institute for Males at Atlanta Technical College, calls it an excellent opportunity to support fathers.
"We can strengthen them where they're weak and enhance where they're strong and make sure they can contribute to the lives of their children in a positive way," he said.
Adika Trimble, organizer of the kickoff event at DFACS' Decatur office, said dads will take the leadership role.
"We'll work with DFACS case workers and emphasize the need to continue to encourage the father's active role in the family," said Trimble, a program director at DeKalb County DFACS. "Secondly, we will offer dads from the community who are upholding their responsibilities and being accountable a chance to reach back to help others do the same."
The lunch hour "rally for dads" that kicked off the initiative included panel discussions, dramatizations and motivational speeches about the growing crisis of fatherless children.
Men from the DFACS staff served as facilitators for the event and even portrayed fathers who are not measuring up.
The National Center on Health Statistics says that the longstanding issue of fatherless children ripples out into the larger community and that fatherless children are 100 percent to 200 percent more likely to have emotional and behavioral challenges while in school, at home and in the community. Sons of absentee fathers are also 300 percent more likely to experience incarceration in state juvenile facilities. Ninety percent of all runaway children are from fatherless homes.
The Fatherhood Initiative will have monthly informational meetings starting April 24 at Trimble's office, 949 N. Hairston Road in Stone Mountain.
Trimble said that DFACS will initiate it but will not lead the men.
"This is a group that we hope will become self-sustaining," he said. "They can invite speakers in to address specific needs such as attorneys if they have questions about child support, and individuals from the community who just want to be better dads will also be invited."
For more information about the Fatherhood Initiative, call 678-205-4196.