Motions fail, Burrell Ellis case set for June 2 trial
Ken Watts | 4/4/2014, 4:27 a.m.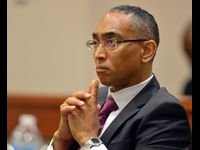 Suspended DeKalb County CEO Burrell Ellis is headed to court on June 2 to face corruption and theft charges after DeKalb Superior Court Judge Courtney L. Johnson denied his motions to dismiss the corruption case against him.
On April 1, Johnson also refused to disqualify DeKalb District Attorney Robert James from prosecuting Ellis.
Her rulings came after a heated two days of hearings marked by attacks and counterattacks by Ellis' team and prosecutors.
Ellis is charged with 14 felonies that accuse him of shaking down county vendors for campaign cash and punishing those who did not give.
Ellis has denied any wrongdoing.
His attorneys told the court that James should be removed because of misconduct issues and accused James of selectively prosecuting Ellis for longstanding campaign practices used by DeKalb public officials.
But in her ruling, Johnson said the "defendant has not shown any political official who has committed the same offenses and not been prosecuted for the same charges."
Attorney Dwight Thomas, who represented Ellis, asked the court to seize James' computer so the Georgia Bureau of Investigation can search it for a secretly recorded video of Ellis.
Thomas argued that James may be carrying on a politically motivated vendetta to withhold what could be important evidence in the case.
"If there are no images, then there's no discovery issue," Thomas said. "But if there are, then we've got serious ramifications in this courtroom."

In a Jan. 23 hearing, former Chief Assistant DeKalb District Attorney Don Geary testified that James showed him about a minute of a secretly recorded video of Ellis in 2013.
Geary told James his office had committed two felonies because both the video and the audio of Ellis' conversation were captured illegally.
At Monday's hearing, Ellis' lawyers said that Geary noticed Ellis was in a suit in the video, while the only video the DA's office turned over in the case shows Ellis in a golf shirt.
But the judge showed little patience with the arguments. She said the defense had failed to prove its allegation.
"The issue at trial is defendant's guilt or innocence of the charges in the indictment," Johnson wrote in her dismissal order. "None of the allegations against the district attorney contained in the defendant's motion go to this ultimate issue. The allegations either go to a suppression of evidence, which will be heard and ruled upon prior to trial and are not jury issues, or go to the defendant's selective prosecution claim which has been ruled upon in this order."
Prosecutors had challenged the motion to disqualify James from the case and said they have turned over all recordings in the case.
They say materials included one video and several hundred hours of audio recordings taken secretly by Purchasing Director Kelvin Walton, who cooperated in the Ellis investigation.
Prosecutors denied the existence of additional video, calling the claims a publicity stunt aimed at delaying the trial. They said Ellis' attorneys should be sanctioned for slanderous comments.
Assistant District Attorney Lee Grant said there isn't any forensic misconduct.
"We haven't even been to trial yet," he said. "So it's just completely untrue, misleading, and disrespectful to this court."

Assistant DA Cynthia Hill said there is only one video.
"And it was turned over six months ago," she said. "Just repeating that claim [of more videos] over and over and over again doesn't make it true."