Multimedia works at ART Station
4/4/2014, 5:30 a.m.
Decatur doll artist Cassandra Harrison will be among members of African Americans for the Arts showcasing their work April 5-27 at the ART Station Gallery in Stone Mountain.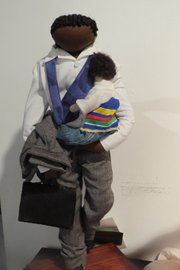 The exhibit of multimedia art and live performances will open April 5 with a reception from 7 to 9 p.m.
There also will be a 5-to-7 p.m. book signing at the Clothesline Gallery located next door.
Visual artists as well as performance and spoken word artists will be featured.

While AAFTA's home is at the beautiful Hammonds House Museum, its membership traverses the city to bring art into the forefront of some of its diverse communities.
The ART Station Gallery is at 5384 Manor Drive. For more information, visit www.a-afta.org or www.artstation.org.