Shaq talks highway safety at Arabia
4/4/2014, 5:43 a.m.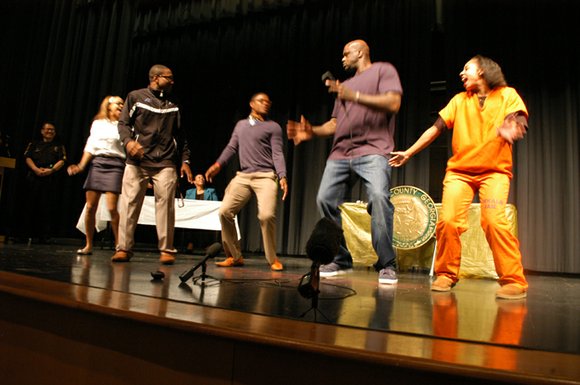 Retired NBA star Shaquille O'Neal visited Arabia Mountain High School in Lithonia on April 3 to stress highway safety and the legal ramifications of vehicular homicides.
O'Neal's talk was part of the "Ghost Out" program that highlights the impact of dangerous driving practices and distracted driving. His visit to the school took place in partnership with the DeKalb District Attorney's Office, DeKalb Fire & Rescue and the Georgia Department of Highway Safety.
"Ghost Out" educates teen drivers about various forms of distracted driving.
District Attorney Robert James said the goal is to teach student drivers about the effects and consequences of driving under the influence, texting while driving and other distractions.
"I know we have all seen cars swerve on the road when a person is talking on the phone or trying to text and drive," James said. "A split second can change someone's life forever. We see lives lost every day due to reckless behavior behind the wheel."
O'Neal and other presenters talked about highway safety and legal issues. A DUI accident victim also shared his story about the collision that nearly took his life.
James said it was a great message for young people to hear as prom season nears.
"Hopefully our efforts will help change behaviors and save lives down the road."