Chapel Hill performers step out at Community Cabinet meeting
4/7/2014, 1:39 p.m.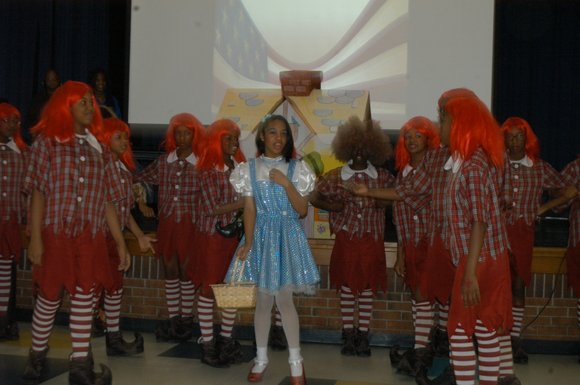 Young performers with the Chapel Hill Middle School Step Team delighted attendees Saturday at Commissioner Stan Watson's monthly Community Cabinet meeting at the school with their take on the classic Wizard of Oz story.
In their version, called The "Steppin' Wiz," Scarecrow, Tin Man and Cowardly Lion teach Dorothy to step so that she can "ease on down the road" and find her way home.
Coach Terry Price, who started the team in November, said the students scored a first place finish at Delta Sigma Theta's Stompin' Out Drugs, Alchohol and Tobacco competition on March 22 at Woodland High School in Stockbridge and second place in recent shows at East Coweta, Fayette and Decatur high schools.
"The step show season runs from September through April but we didn't get started until November because I was new to the school and settling in," said Price who teaches health and physical education at Chapel Hill. "We're very proud of what we've been able to accomplish this year."
The cast includes Aliyah McDaniel as Dorothy, Xoe Reed as Tin Man, Jamonte Wilson as Cowardly Lion, Tiara Miller as Scarecrow and Iyani Dodd as the lead Munchkin.
The team has its last three competitions of the season at WestLake High in Atlanta April 18, South Cobb High in Marietta April 19, and Drew Charter School in Riverdale April 26.