Forgotten Tuskegee Airman to get Congressional Gold Medal
4/10/2014, 6:07 a.m.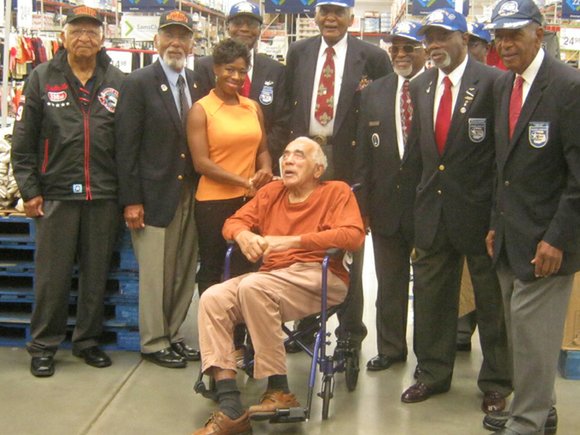 ATLANTA — Tuskegee Airman Harry Rock of Decatur will receive a Congressional Gold Medal replica from U.S. Rep. John Lewis at an April 18 ceremony at the Porter Sanford III Performing Arts Center.
Rock's contributions as a Tuskegee Airman were verified only recently in 2012 after a chance meeting at a Sam's Club public engagement.
An unknown number of Tuskegee Airmen never received the honor. However, through the support of Lewis, who represents the 5th Congressional District that includes portions of DeKalb, and the efforts of the DeKalb SCLC, National Congress of Black Women and the Essien Agency, Rock, 90, will finally be honored with a proper Gold Medal ceremony and presentation.
The ceremony takes place from 4 to 6 p.m.
Rock will receive a 3-inch bronze replica of the Congressional Gold Medal, the same as that originally bestowed upon his Airmen colleagues in 2007 by President George W. Bush.
The ceremony will feature DeKalb ROTC groups, elected and military officials, local school groups, and entertainment.
The community is invited to take part in the program with an R.S.V.P. at tinyurl.com/nxdm35q. Seating is limited.
Sponsors and donations toward the program are welcome. Tax-deductible donations may be mailed to DeKalb SCLC, 2679 McAfee Road, Decatur, GA 30032.
The Congressional Gold Medal is the nation's highest civilian honor issued by Congress. The Tuskegee Airmen were the nation's first African-American military aviators. They inspired revolutionary reform within a divided and segregated nation and were collectively awarded the Congressional Gold Medal in 2007. They were presented bronze replicas of the Gold Medal that is permanently housed in the Smithsonian. The Congressional Order can be found at http://tinyurl.com/l3r7q8w.
The Porter Sanford III Performing Arts and Community Center is at 3181 Rainbow Drive in Decatur.