Author to discuss Boston bombing story
4/11/2014, 6:07 a.m.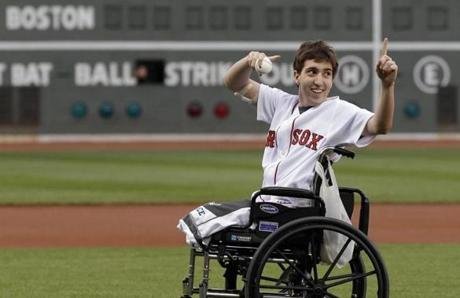 Decatur resident Bret Witter, who co-wrote "Stronger" with Jeff Bauman, will discuss the Boston Marathon bombing survivor's story on April 16 at the Carter Presidential Library & Museum.
The reading/book signing, which is free and open to the public, takes place at 7 p.m. a day after the one-year anniversary of the April 15, 2013, Boston Marathon bombing.

Witter tells the story of Bauman, who woke up on April 16, 2013, and discovered he had no legs.
Just 30 hours prior, Bauman was surrounded by revelry at the finish line of the 2013 Boston Marathon.
The first bomb went off at his feet as he awaited his girlfriend's finish.
When he awoke days later from hours of surgery, he ripped out his breathing tube and tried to speak. He couldn't.
Bauman asked for a pad and paper and he wrote down seven words, "Saw the guy. Looked right at me," setting off one of the biggest manhunts in the country's history and beginning his own brave road to recovery.
Witter is a New York Times best-selling author whose books include "The Monuments Men," which was made into a 2013 movie directed by and starring George Clooney.
The Carter Presidential Library & Museum is at 441 Freedom Parkway in Atlanta. For more information, visit www.jimmycarterlibrary.gov or call 404-865-7100.